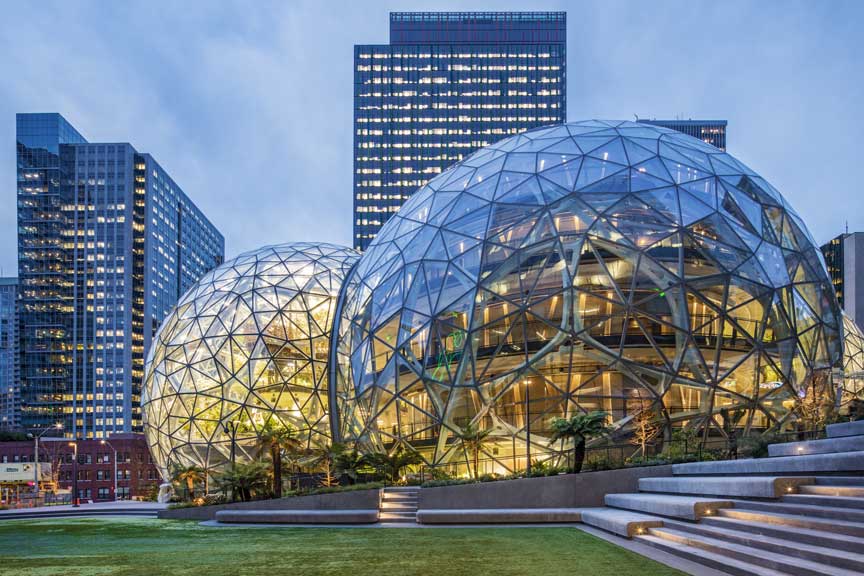 Amazon, the world's largest online retailer, has opened its much-anticipated Spheres at the company headquarters in Seattle, Washington. Located in the city's Denny Regrade neighborhood, the unique structures were designed by architectural firm NBBJ as a 'botanical immersion' with the purpose of improving employee productivity and collaboration through development of a more natural and biodiverse workplace.
The three, dome-style structures feature treehouse meeting rooms, river and waterfall features, and a four-story living wall. The interconnected Spheres are home to more than 40,000 plants from more than 400 species, which span five continents and 50 countries. With tours and field trips available to the public, the Spheres also include a visitor center called the Understory, which provides a immersive experience where visitors can learn more about the science, engineering, and plants related to the structures.
"The Spheres are sure to become an iconic part of downtown Seattle and I applaud Amazon for its latest innovation," said Jay Inslee, Governor of Washington. "These unique buildings are so much more than a beautiful creative space for Amazon employees. They will help conserve a number of rare plant species from around the world and provide countless educational opportunities for local students—and that is something Washington can take pride in."
The domes' construction required more than 562 tonnes (620 tons) of steel and 5.4 million kg (12 million lb) of concrete. Additionally, the structures' façade contains 2643 panes of energy-efficient glass, with a film interlayer to keep out infrared wavelengths which produce unwanted heat. Radiant floor hearing and cooling also helps balance indoor temperature.
To read more about the project, click here.
Read about the challenge of coating the Spheres' steel structure in the upcoming issue of Construction Specifier.
Amazon also recently announced the candidates for its much-anticipated second headquarters:
Atlanta, Georgia;
Austin, Texas;
Boston, Massachusetts;
Chicago, Illinois;
Columbus, Ohio;
Dallas, Texas;
Denver, Colorado;
Indianapolis, Indiana;
Los Angeles, California;
Miami, Florida;
Montgomery County, Maryland;
Nashville, Tennessee;
Newark, New Jersey;
New York City, New York;
Northern Virginia, Virginia;
Philadelphia, Pennsylvania;
Pittsburgh, Pennsylvania;
Raleigh, North Carolina;
Toronto, Ontario; and
Washington, D.C.
To read more, click here.