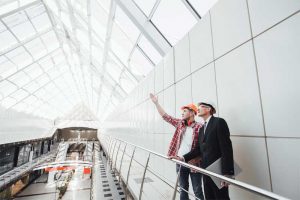 Given the growing use of large and complex sloped glazing systems—considered to be installations where the glass is inclined 15 degrees or more from vertical—as creative architectural statements, the design criteria for them are rapidly evolving. The codes governing their application are also changing to ensure their performance as a viable element of the building envelope. The most important design considerations are environmentally imposed loads, and minimizing their tendency to cause breakage, which can have a greater impact on life and property than it does with vertical glazing.
Proper glass selection and system design is intended to meet specified design load(s) with the primary goal of reducing the probability of glass breakage, which poses risks to people and property. An article in our newest sponsored e-book explores the differences in design considerations between vertical and sloped glazing. For example, sloped glazing is more susceptible to impact from falling objects and hail, and is also more likely to fall from its opening when it breaks than vertical glazing. Breakage may occur due to several factors, either acting alone or in combination.
This article appears along with a couple of other articles in Designing with Glass, a free, downloadable resource. To get your copy in either pdf or digital edition, visit www.constructionspecifier.com/ebook/agc-glass-north-america-designing-with-glass-e-book.