by Kristen Lewis
Insulating walls with low-pressure sprayed polyurethane foam (SPF) is a common practice among builders and architects for various reasons—such as increased energy efficiency, structural support, and overall comfort. One of the ways SPF can increase the comfort of a structure is through the material's sound-deadening properties, which contractors can employ to bring additional value to a project.
Sound-deadening sprayed polyurethane foam in a building can serve several purposes, from mitigating outside noise to enhancing a quiet office space. Multimedia environments, or any specialty rooms where excessive noise can become an issue, can also benefit from SPF as a cost-effective sound-reduction measure.
Traditional sound barrier technology often used within structures—such as vinyl sound barriers and fiberglass products—can be cost-prohibitive for builders or property owners looking to save money or to spend it elsewhere—a 'nice-to-have,' though not a 'necessary' feature. When builders and architects take advantage of sprayed polyurethane foam insulation for other uses, its sound-deadening effects can come as a bonus, saving time and money in the construction process while increasing the structure's comfort.
Application of SPF for sound deadening
Several manufacturers offer sprayed polyurethane foam specifically with this acoustic quality in mind. Open-cell sprayed-foam formulations—which are lower density and often less expensive per board foot than closed-cell counterparts—are well-suited to sound-deadening, with high expansion properties to quickly and simply fill voids.
Sprayed polyurethane foam as a sound-deadening measure works for essentially the same reason the material works for mitigating airflow: sound is airborne. By filling wall voids, the foam curbs resonance, keeping the sound from leaving or entering the desired room or space. Sprayed foam can also reduce sounds generated inside wall spaces, caused by flushing toilets, clanging pipes, and other miscellaneous utilities.
Applying sprayed polyurethane foam as a sound barrier, however, differs slightly from applying the product strictly as an insulation material. When used strictly as insulation, effective spots to insulate for thermal efficiency include rim joists, attics, and crawl spaces, as well as the traditional wall application. Sound-barrier spray-foam products should be applied to interior walls throughout areas that typically produce excess noise as noted by the property owner—these can often be interior walls rather than exterior assemblies. Working in conjunction with the building occupant to identify the specific areas where noise control is important to them is a critical part of the process to ensure the best result.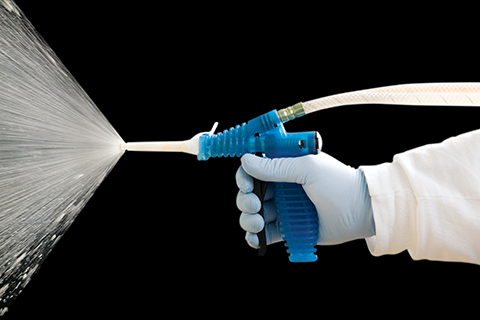 No matter the application, all regular safety precautions must be adhered to when applying sprayed foam. The U.S. Environmental Protection Agency (EPA) outlines several key steps for safe polyurethane foam use. These precautions include:
review the product label for recommended work practices and precautions;
read through the ventilation guidelines for the product; and
prevent eye, skin, and inhalation exposures with the appropriate safety gear (e.g. goggles and respirators); and
exercise caution when determining safe re-occupancy after the polyurethane foam has been applied. EPA recommends allowing the foam to completely cure before re-entry by unprotected persons.
Re-occupation of a space is also contingent on cure times. Additionally, ensuring installers have allowed for the proper cure time length ensures the foam has set properly, and will perform its intended function well into the future.