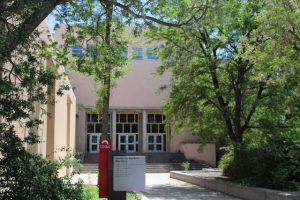 The University of New Mexico (UNM) in Albuquerque selected a team led by architecture firm Studio Ma to create a new master facility plan for its College of Fine Arts.
The plan will guide the continued expansion of UNM's arts education programming and help advance its leadership position in the statewide arts community.
"I am confident this collaboration will provide the strategic guidance to successfully develop long term growth plans for the college that improve the student experience and creative growth," said Amy Coburn, director of UNM planning, design, and construction.
Studio Ma will collaborate with Albuquerque-based architecture firm Dekker/Perich/Sabatini and arts consultant Greg Esser on the project. Together, the team brings a combination of national experience, local knowledge, and expertise in campus and cultural design to create a comprehensive plan for the College of Fine Arts and help UNM achieve its growth objectives.
The plan will encompass five areas: strategic visioning; partnership development; diversity, equity, inclusion, and belonging assessment; sustainability; and physical design. This holistic process will establish a thoughtful, valuable approach to solving root issues and preparing for the effective implementation of new partnerships and building projects at UNM, Studio Ma said in a press release.
"The University of New Mexico is a locus in the state's vibrant arts community, and we are honored to partner with a transformative institution that serves as a key cultural and economic driver," said Christiana Moss, FAIA, Studio Ma principal. "Our team is excited to create a forward-thinking vision for the College of Fine Arts."