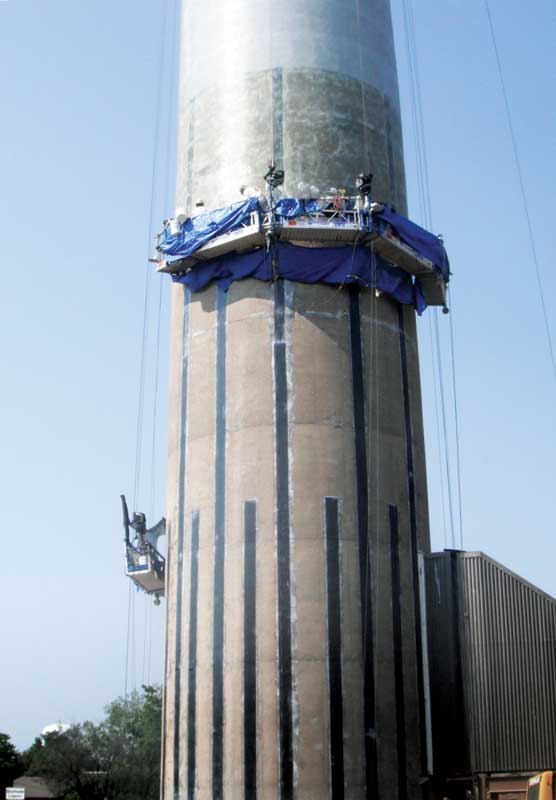 by Jay H. Paul, SE, FACI, and Gene R. Stevens, PE, SE, M.ASCE
In 2006, the Strategic Development Council of the ACI Foundation (established by the American Concrete Institute) recognized the need to set minimum requirements for strength, serviceability, and durability for existing structures. They envisioned standards much like those provided for new construction by the International Building Code (IBC) and ACI 318, Building Code Requirements for Structural Concrete.
Thus, the Strategic Development Council developed the Vision 2020 plan for the concrete repair, protection, and strengthening industry. A key part of its mission was to create a repair and rehabilitation code that would improve the efficiency, safety, and quality of concrete repair. As more concrete professionals become involved in the field of repair and rehabilitation, a common code ensures consistency of practices and ultimately raises the level of structural performance and public safety.
ACI Committee 562 (Evaluation, Repair, and Rehabilitation of Concrete Buildings), spent seven years developing a code to unify industry practices. The 31-member team of engineers, contractors, and manufacturers—including many members of the International Concrete Repair Institute (ICRI)—produced the Code Requirements for Evaluation, Repair, and Rehabilitation of Concrete Buildings (i.e. ACI 562) in 2013.
The code represents a major milestone in the concrete repair industry—not only is it the first material-specific set of requirements for the repair of reinforced concrete, but it also serves as ACI's first performance-based code. This new approach is changing concrete repair and rehabilitation in several important ways.
1. Specifiers have more flexibility to use their professional judgment.
ACI 562-13 is carefully structured to give engineers and architects significant latitude in approaching concrete repair. While drafting the code, the committee members concluded it would be highly impractical to apply any prescriptive requirements due to the wide range of existing concrete buildings built using different building codes and materials, and exhibiting various repair and rehabilitation issues.
Instead, they developed a performance-based code that provides a minimum baseline of requirements rather than dictating specific formulas that must always be applied. Designers can select the best options for each project, taking into account variables such as extent of deterioration or damage, materials used, age of the structure, environmental conditions, and durability requirements.
For example, Chapter 5 of ACI 562 addresses licensed design professionals' (LDPs') responsibilities for determining loads and strength reduction factors for elements being repaired, as well as the entire structure. The evaluation of existing buildings differs from designing new ones. In-place materials, as-built geometries, and material properties can be investigated, reducing the uncertainty of these properties. Strength reduction factors used from new design (such as ACI 318) may be unnecessarily conservative with these reduced uncertainties.
Codes for new construction, such as ACI 318, must conservatively estimate the strength of a structure that is yet to be built based on several parameters that can vary between the specified values and the actual values in the finished structure. For existing structures, the variability of these parameters can be reduced by testing and measurements made on the actual structure in the field. ACI 562 encourages the designer to verify these values in the field by allowing them to use a less conservative strength estimate that reflects this reduced variability. (For more details on the basis of ACI 562, and areas where it differs from ACI 318, see the ACI/ICRI video presentation, "Introduction to the Concrete Repair Code [ACI 562]," which is available online at bit.ly/1Ugbyd6).
ACI 562 walks users through the process of selecting a design basis code (i.e. the project's original building code or current code that applies in the particular jurisdiction, such as the 2012 IBC) to ensure a minimum level of safety regarding load and strength requirements. If a design-based code requires the use of ACI 318 for the evaluation or repair design, then the new construction provisions in ACI 562 for load factors, load combinations, and strength reduction factors should be used instead of the original building code (Chapter 5.1).
An engineer may decide to use load factors and load combinations from the structure's original building code, as long as they meet the proper safety requirements of that code. Provisions for strength reduction factors from ACI 562 cannot be used in combination with load factors and load combinations from the original building code.
While providing minimum design requirements such as these, ACI 562 effectively accommodates the varied and unique strategies and materials designers can use.