Occupant comfort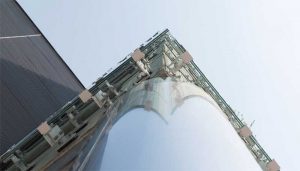 The ventilated glass façade system provides multiple occupant benefits, such as: daylight and solar shading, protection from wind-driven rain and snow, access to fresh air, and safety. Combined with the daylight-filtering glass, the façade creates a connection to the outside and enhances visual and audio 'visibility.' The garage's sweeping floor plan and open glass exterior allow virtually unrestricted 'natural surveillance' opportunities—to see and be seen, hear and be heard. From gentle daylight to fresh air, the glass system helps make this parking facility light-filled, welcoming, and safe.
Durability and maintenance
The 727 West Madison's glass façade is engineered for strength and durability, surpassing ASTM test requirements for structural performance. The laminated safety glass is formulated for the exposed-edge exterior application, featuring specialized, ultraviolet (UV)-stable polyvinyl butyral (PVB) interlayers.
Its naturally maintenance-friendly, non-porous surfaces resist permanent stains and graffiti. Periodically, traditional window washing techniques can be used to clean the façade. Should a glass panel become damaged at any point in the future, the patented fittings allow it to be quickly and easily replaced.
The value of design assist
The design assist approach at 727 West Madison helped achieve a standout parking façade aesthetic, generous natural ventilation, and significant cost savings. Attaching the glass cladding directly to the building columns and slabs saved approximately $900,000 in steel costs. It also enlarged the parking structure's operable area. The custom 200-mm glass panel spacing on the north and south saved another $150,000 in mechanical ventilation costs. The quick-assembly system expedited installation, resulting in labor cost savings. The use of similar glass and metal components to create two distinct wall aesthetics contributed additional installation efficiencies and savings. Finally, providing the custom glass façade as an integrated single-source solution, including the materials, design, engineering, drawings, 3D models, and warranty, simplified the specification process.
The project architects approached the ventilated glass façade supplier with the design challenge. The manufacturer then came up with an open, ventilated decorative façade solution and presented project renderings to both the architect and owner who loved the design and approved it. The challenge was then to find a way to do it within the budget, both from material and installation cost standpoint. In the authors' opinions, a decorative, open, naturally ventilated glass façade of this size with these performance characteristics could not be accomplished within the budget without design assist.
In a design-assist process, the manufacturer stamps the engineering and shop drawings on their system. When the architect incorporates the drawings into their package, they stamp the entire architectural package.
Conclusion
The 727 West Madison parking facility used design assist to accomplish an elegant, seamless 'jewel' façade offering ample natural ventilation, daylight, and comfort. The customized ventilated glass cladding appears light and crystalline. It elevates the utilitarian parking structure into a building of architectural significance, worthy of its place in the neighborhood.
Jen Miret is director of marketing for Bendheim. She has more than 10 years of experience developing educational content for architecture and design professionals. Miret's portfolio includes continuing education unit (CEU) programs on architectural glass, technical articles, and pieces on current trends and technologies in specialty glass architecture. She can be reached at jmiret@bendheim.com.
Said Elieh is director of technical design for Bendheim. He has a master's degree in architecture and more than 20 years of commercial building experience, including wall constructions, façades, and glazing. His area of expertise is the design, development, and the implementation of advanced, high-performance glass façade systems. Elieh can be reached at selieh@bendheim.com.