by Heather Bender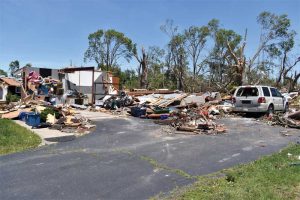 According to research data from the National Oceanic and Atmospheric Administration (NOAA), Americans face more extreme weather events, such as tornadoes, hurricanes, wildfires, and powerful storms, annually than any other country in the world. The Federal Emergency Management Agency (FEMA) P-361, Safe Rooms for Tornadoes and Hurricanes: Guidance for Community and Residential Safe Rooms, and the International Code Council (ICC) 500, Standard for the Design and Construction of Storm Shelters, provide guidelines to promote life safety during such events.
Initially released in 2000, FEMA P-361 provides guidance on best practices related to the design, construction, and operation of safe rooms. However, FEMA P-361 is only a guideline, and not a standard. It is only mandatory when storm safe room shelter is funded by a FEMA grant.
Using the first edition of FEMA P-316 as guidance, ICC 500 was initially published in summer 2008 and updated in 2014. It lays out the minimum requirements to safeguard public health, safety, and also general welfare in relation to the design, construction, and installation of storm shelters.
ICC 500 applies to both residential and community storm shelters. Residential shelters have an occupant capacity of 16 people. The maximum occupancy for community storm shelters is based on state and local building codes. Storm shelters are permitted to be either separate, detached buildings, or fully or partially enclosed within a host structure.
In 2009, the International Building Code (IBC) incorporated ICC 500 to regulate the design and construction of buildings (and safe rooms) designated as storm shelters or tornado safe rooms.
All states that have adopted 2015 IBC or the more recent edition require storm shelters within the '400-km/h (250-mph) zone'—commonly referred to as 'tornado alley'—to meet ICC 500. It is important to note that there is no official 'hurricane alley' where ICC 500 or FEMA P-316 is mandated.
Further, not all states have adopted 2015 IBC. As of February, 15 states were still using standards from 2012 or earlier, while five states have not at all adopted IBC. However, some individual counties and cities have adopted 2015 IBC. This is why these statistics and facts do not paint an accurate picture. For example, Alabama passed legislation requiring the inclusion of safe rooms in new school construction statewide even though only a small part of the state is in the 400 km/h wind range.
On the flip side, some municipalities in states operating under IBC 2015 or newer have placed moratoriums on ICC 500 requirements due to cost concerns over storm shelters and safe rooms. Unable to afford the high expenses of retrofitting schools and other buildings with shelters, or including them in new projects, they have decided to forgo them altogether.
Newer, safer products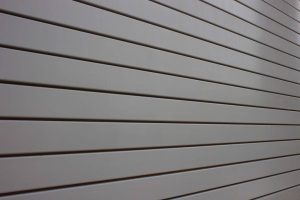 When it comes to tornadoes and hurricanes, door assemblies are one of the most important components of safe room structures. Walls and roofs are, obviously, very significant elements in ensuring protection, but these are fixed components. Doors, on the other hand, are a trickier problem to solve because they must remain functional as well as moveable for day-to-day use, while offering quick access and solid protection in the threat of extreme weather.
Thanks to the industry changes being driven by FEMA P-361 and ICC 500, rolling door manufacturers are developing advanced products to help the architecture and design (A&D) community safeguard building occupants in extreme weather events. These products are designed specifically for safe room application by transforming spaces like cafeterias and gymnasiums into well-protected shelters.
New rolling doors feature sleek construction and virtually undetectable embedment into precast concrete, thereby creating minimal protrusion into the space. Additionally, the coil may be hidden above a pre-finished ceiling or in a soffit. This invisibility allows design freedom because a single door can cover multiple openings, or even banks of windows to maximize natural light.
Wind locks prevent the curtain from pulling out of the door guides during extreme weather events, while high-strength brackets and reinforced bottom bars provide strength and security.
These advanced rolling doors mean typical safe room spaces, such as cafeterias, classroom pods, and gymnasiums, can be open and airy instead of dark and claustrophobic. When a storm is imminent and alarms are sounding, the doors are closed by an operator, which turns an open space into an ICC 500-rated safe room protecting occupants from harsh winds and deadly projectiles. After the event, the door simply disappears back into the structure with the touch of a button.
While FEMA-rated glass products are becoming more common, these solutions allow students to see the approaching storm or tornado as it bears down on their school, which can be a very traumatic experience, especially for elementary school children. The solid construction and retractable design of rolling doors removes the frightening visual elements of extreme weather.