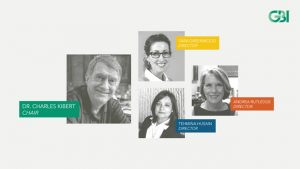 The Green Building Initiative (GBI) has elected Charles Kibert, professor and director of the Powell Center for Construction and Environment at the University of Florida, as chair of its board of directors.
GBI's membership also elected three new directors: Sara Greenwood, GGP, principal of the Greenwood Consulting Group; Tehmina Husain, GGP, GPCP, senior sustainability consultant of Merrick and Company; and Andrea Rutledge, CAE, CEO of the Construction Management Association of America to the board with terms through December 2023.
"I am honored and humbled for the opportunity to lead an organization that has displayed such a strong commitment to improving the built environment," said Kibert. "Our global environmental and health challenges require urgent action. GBI's programs are assets to building owners who need roadmaps and tools like Green Globes right now. I look forward to continuing our work with GBI's volunteer experts, Green Globes Professionals, and Assessors to sharpen our focus on sustainability, health, and resilience issues in buildings."
"Dr. Kibert and our new and returning board members bring the expertise and passion that will be required to help our nation and global community through the challenges wrought by pandemic and uncertainty," said Vicki Worden, CEO of GBI notes. "GBI looks forward to being an active contributor to making forward progress on our collective climate-related priorities in 2021."
Greenwood joins GBI's leadership having completed more than 70 Green Globes projects and brings an unrivaled understanding of the green building landscape, GBI said. Husain has overseen numerous Green Globes and Guiding Principles Compliance projects and holds both GBI's Green Globes Professional (GGP) and Guiding Principles Compliance (GPCP) credentials. Finally, as the CEO & president of Construction Management Association of America, Rutledge brings extensive association management experience along with a record of successful leadership development to GBI.
"The new board members each offer a unique and valuable set of experience and skills, and all are proven leaders with an expressed desire to make GBI an even stronger organization," said Ralph Egües, chair of GBI's nominations and governance committee. "Of course, we are delighted to be adding these three accomplished women as we continue to make progress in building a diverse Board reflective of GBI's community."