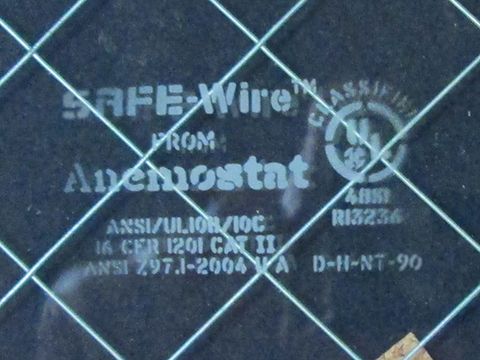 It would take three more years and the efforts of Advocates for Safe Glass, led by Greg Abel, whose son had been injured by putting his hand through wired glass in a door, before the 2003 edition of the IBC was changed. Only then was traditional wired glass no longer allowed in any doors or other hazardous locations in 'educational' occupancies (i.e. K−12 schools and daycare centers). The 2006 edition of IBC removed the exception completely, and traditional wired glass is no longer allowed in hazardous locations in any occupancy type when a jurisdiction has adopted an edition of the code dated 2006 or later.
The 2003 edition of IBC also expanded the section addressing "Glazing in Athletic Facilities." In these spaces, glazing that forms whole or partial wall sections, or is used as a door or part of a door, must comply with the safety glazing requirements listed—CPSC 16 CFR, Part 1201, Category II, or ANSI Z97.1 Category A. 
In effect, this section mandates impact-resistant glazing in all gymnasiums, basketball courts, and other athletic facilities.
These requirements have been carried forward in subsequent editions of IBC. Unfortunately, not everyone is aware of this change, and traditional wired glass without an impact-resistance rating is still sometimes specified and/or supplied for new buildings.
Existing glass
As a result of the decades-long delay in changing the code, there are millions of pieces of traditional wired glass in existing doors, sidelites, and windows across the country. Great strides have been made in the effort to raise awareness about the risks of these products, but after years of budget cuts, state and local governments are particularly hard-pressed to find the necessary funds to replace the traditional wired glass in their schools and other public buildings.
However, Safe Glass Solutions (SGS), a firm dedicated
to ensuring the use of safe glazing in public buildings, 
has teamed up with the window film branch of a major glazing manufacturer to address this issue. SGS launched 
a program focused on bringing potentially non-compliant glass in public buildings—both wired and non-wired—up to safe standards.
Having successfully lobbied for the issue to be changed in the 2003 IBC, Abel was hired by SGS to serve as their director of government relations. He said the program's purpose is to provide building owners with a stopgap measure that makes current non-safety glazing products safe until they can be replaced with products complying with the new code.
SGS conducts a building walk-through assessment (often conducted by a network of retired code officials) to document all potential hazards, such as wired glass panels that are at risk of human impact. A safety film is then installed in those hazardous locations. In addition, each finished panel is labeled with a QR tag containing information on its location and date of modification, which is then kept on file by SGS.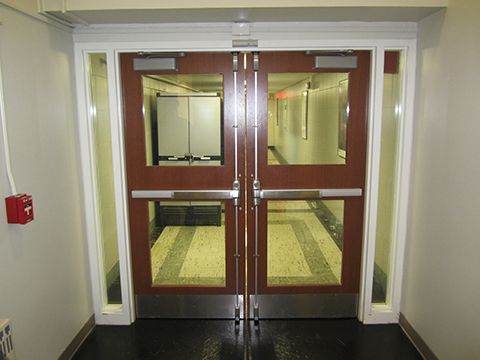 Liability
As expensive as it is to replace wire glass, the cost of not doing so can be significantly higher. Each year, lawsuits stemming from traditional wired glass accidents result in hundreds of thousands of dollars paid to victims whose injuries are often extensive. A Canadian example provides a good case in point.
In 2010, the Toronto District School Board was named in 
a $1 million lawsuit brought by Ravelle Sidial who claimed to have suffered severe injuries when his arm passed through a wired glass door at Lester B. Pearson Collegiate Institute. His injuries included "severed tendons to his right hand and a severed artery," which required surgery and extensive, painful physiotherapy. Many other lawsuits are currently moving through the courts, including a $5 million suit filed against Ontario's Halton Catholic District School Board by student Sean Lloyd, who was severely injured by traditional wired glass in a corridor door.
The Ontario School Boards' Insurance Exchange (OSBIE) compiled a statistical analysis of the risks of injuries, after paying out more than $3 million to settle injury claims. Its report states:
OSBIE receives many reports of incidents and notices of claims with respect to injuries received by students seriously cut through impact with glass. Many of these injuries are caused by wired safety glass in schools. From 1987 to 2000 there have been 107 claims against schools for glass injuries. Over this period, costs related to glass injuries amounted to $3,154,202. More important than the dollars is the pain and suffering, permanent reduced mobility and scarring caused by these impacts with glass.