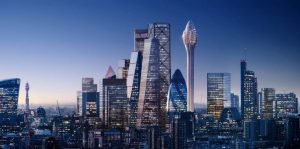 Mayor Sadiq Khan, London, United Kingdom, has rejected the Tulip tower project by J. Safra Group and Foster + Partners even though the City of London had approved it in spring.
"The mayor has a number of serious concerns with this application and having studied it in detail has refused permission for a scheme that he believes would result in very limited public benefit," said a spokesperson for the mayor.
If completed, the 305-m (1002-ft) tall visitor attraction would have become one of the tallest buildings in London and second tallest in Western Europe.
"In particular, he believes that the design is of insufficient quality for such a prominent location, and that the tower would result in harm to London's skyline and impact views of the nearby Tower of London World Heritage Site. The proposals would also result in an unwelcoming, poorly-designed public space at street level," the spokesperson added.
The plans for the Tulip also included a vantage point to view London from more than 300 m (984 ft). The viewing galleries would offer an engaging experience with sky bridges, internal glass slides, and gondola pod rides on the building's façade.
"The Tulip project team are disappointed by the mayor of London's decision to direct refusal of planning permission, particularly as the Tulip will generate immediate and longer-term socio-economic benefits to London and the U.K. as a whole. We will now take time to consider potential next steps for the Tulip project," a representative for the Tulip's project team told the Architect's Newspaper.