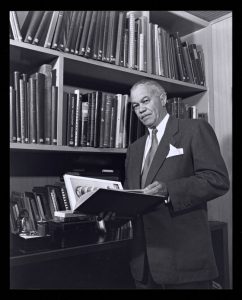 The archive of the renowned architect Paul Revere Williams (American, 1894–1980) has been jointly acquired by the University of Southern California (USC) School of Architecture and Getty Research Institute (GRI).
The archive has been cared for by Karen Elyse Hudson, Williams' granddaughter, who has published extensively on his work.
"Paul Williams led by example and instilled in his children and grandchildren the importance of excellence, an attention to detail, and above all, family. The collaboration of two such esteemed institutions, USC and GRI, to preserve and further his legacy, would make our grandfather extremely proud," said Hudson.
Paul Revere Williams was one of the most significant African-American architect of the 20th century, with especially strong ties to Southern California and the city of Los Angeles. Documenting the entirety of Williams' career, from his early residential commissions during Los Angeles' housing boom of the 1920s to landmark mid-century civic structures, the archive includes approximately 35,000 plans, 10,000 original drawings, blueprints and project diazotypes, hand-colored renderings, vintage photographs, correspondence, and other materials. Significantly, the plans represent the majority of Williams' commissioned work, including projects that were never built. Although many believe that Williams' archive was destroyed in a fire during the 1992 Los Angeles civil unrest, in truth, primarily business records were lost then. Most of the extensive archive was in a different location and is in excellent condition.
At USC, the Paul Williams Archive Initiative will be a central feature of the forthcoming USC Center for Architecture + City Design. The center and the initiative will extend the school's legacy of research into the next 100 years by linking archival work on the design of cities with scholars and designers working on contemporary issues that engage architecture, conservation urbanism, and social practice.
As the most significant and intact archive of an African-American architect working in Southern California in the early and mid-20th century, the archive is a cornerstone for Getty's African American Art History Initiative (AAAHI), which Getty launched in 2018. It builds on and expands the scope of visual culture represented in present and incoming collections at the GRI.
A native Angeleno, who was orphaned by the age of four, Williams contributed greatly to the cultural landscape, and design, of Los Angeles. Always acutely aware of being African-American in a profession that rarely welcomed those of color, he was the first African-American member of the American Institute of Architects (AIA), its first African-American Fellow, and ultimately its first African-American Gold Medalist.
Getty Research Institute and USC School of Architecture are co-owners of the archive and will work together to extend the legacy of Paul R. Williams through research and scholarship as well as exhibitions and programming. The archive will be housed at Getty, which will oversee processing and conservation of the materials, which are in excellent condition. An extensive digitization effort will take several years and will ultimately make most of the archive accessible to scholars and others.