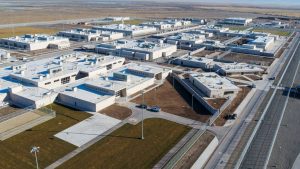 Work has wrapped up on the new Utah State Correction Facility (USCF), the largest construction project ever undertaken by the state of Utah.
The facility, comprised of 35 buildings and 125,419 m2 (1,350,000 sf) of operational space on approximately 70 ha (172 acres) of land, will house up to 3600 inmates by the end of the summer.
A joint venture between contractors Big-D Construction and Kitchell CEM (BDK), the USCF is one of the largest construction projects in the state's history and the largest for the state of Utah. The project, designed by HOK and local architect GSBS, is also among the largest detention projects in the U.S.
The total cost of the facility, including infrastructure, is approximately $1.05 billion.
"This facility will provide a safe and secure environment conducive to recovery and rehabilitation for up to 3600 inmates. It will also give our Corrections employees the space they need to do their difficult jobs. We applaud the hard work of so many who made this achievement possible," says Utah Governor Spencer Cox.