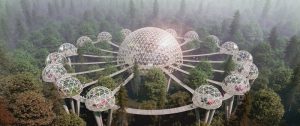 Build Better Now, a virtual reality online exhibition demonstrating the opportunities for tackling the climate emergency, is now open to the public.
The virtual pavilion, designed by AECOM in collaboration with Install Archive, features a series of dome-shaped exhibition spaces amongst treetops and connected by walkways. The exhibition showcases 17 sustainable built projects from around the world, selected from an international open call. Build Better Now also features a new 3D installation and accompanying film by Make Architects, conceived for the United Nations' 26th Conference of the Parties (COP26) in Glasgow, Scotland.
The built environment has a central role to play in supporting the world's transition to a net zero carbon economy. Globally, buildings consume more than one-third of energy produced, and are responsible for 40 percent of global energy-related carbon emissions. Build Better Now acts as a global call for climate action and is supported by a coalition of more than 100 partner organizations from the built environment industry.
Make Architects was selected to design a sustainability-focused, 360-degree installation and an accompanying film to act as a centerpiece within the pavilion. The Fountain of Circular Recovery highlights opportunities for recovery, reuse, and recycling in the built environment to establish a truly circular economy.
Pioneering projects include a cultural center in Sweden that will be one of the world's tallest timber buildings; the largest certified Passivhaus building in the southern hemisphere in Australia; a 100 ha (247 acre) innovation district in Italy digitally mapped and powered by 100 percent renewable energy sources; and the largest new build energy-positive office building in Norway, which supplies renewable energy to neighboring buildings and powers electric buses.
Buildings constructed using natural local materials range from a U.K. university building utilizing thatch and reed, a school in Indonesia built with bamboo, and the first 3D-printed sustainable homes made entirely from raw clay.
As well as government-funded research into retrofitting Scotland's iconic but hard-to-heat tenement homes, the exhibition features a favela in Brazil and affordable sustainable housing solutions in the U.K., New Zealand, and Pakistan.