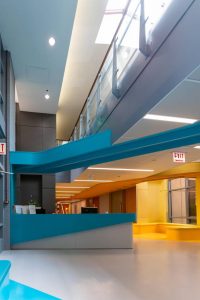 Architecture firm Juan Gabriel Moreno Architects (JGMA) unveiled its renovation and design for Humboldt Park Health, a 100-year-old building in the heart of Chicago's Puerto Rican neighborhood.
The firm planned and designed the renovation and reimagination of the lower levels and functions specifically for patient care, visitor flow, and wayfinding. The project consists of over 232.3 m2 (25,000 sq-ft)  split into 22 individual phases, which seeks to reflect the quality of the care provided within.
The interior transformation includes new floor, wall, and ceiling finishes to brighten the interior environment through an introduction of color, as well as provide clear directions for patient access to the various programs throughout the hospital.
Creation of new partitions and demolition of existing barriers in various clinical areas, including the emergency department, seek to reshape programmatic adjacencies and better promote wellness and privacy.
Careful introduction of transparent and translucent materials, including local art and images of nearby landmarks, assists in promoting openness and privacy simultaneously. A dynamic ceiling treatment throughout the corridors is meant to shape the logic of signage and directions that is welcoming and easy to understand.
Humboldt Park Health is a critical safety net healthcare provider whose mission is to provide high quality, compassionate, and affordable health care services by partnering directly with patients, families, employees, physicians, and communities served.
The interior renovation project represents a critical first step in a Wellness District Master Plan with the main objective of completely rethinking the health and wellbeing of area residents.