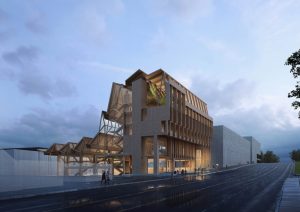 Ireland-based firm Grafton Architects, in partnership with Modus Studio of Fayetteville, Arkansas, will design the $16-million Anthony Timberlands Center for Design and Materials Innovation at the University of Arkansas.
Yvonne Farrell and Shelley McNamara, co-founders of Grafton Architects, were recently named the 2020 recipients of the Pritzker Architecture Prize, an award known internationally as architecture's highest honor.
"We are very excited about building our first building in the United States in Fayetteville, Arkansas," said Farrell and McNamara. "This building helps us think about the future optimistically, where the use of timber with all its possibilities, becomes real, useful, and hopefully loved."
This planned center, part of the Fay Jones School of Architecture and Design, will be located on the northeast corner of the university's Windgate Art and Design District in south Fayetteville. This campus district houses existing and proposed buildings for the School of Art and University Libraries.
The new applied research center will serve as the epicenter for the Fay Jones School's multiple timber and wood design initiatives, house the school's existing and expanding design-build program and fabrication technologies laboratories, and serve as the new home to the school's emerging graduate program in timber and wood design.
The design team selection comes after a months-long process unlike anything previously done for a university building. The Fay Jones School initiated a design competition that was funded in large part by a grant from the U.S. Forest Service and the U.S. Endowment for Forestry and Communities. A total of 69 firms from 10 countries answered the university's request for qualifications from architects. From those submissions, six finalist firms were selected to conceive conceptual design proposals for the new research center.
"The basic idea of this new Anthony Timberlands Center is that the building itself is a Story Book of Timber,'" Farrell said. "We want people to experience the versatility of timber, both as the structural 'bones' and the enclosing 'skin' of this new building. The building itself is a teaching tool, displaying the strength, color, grain, texture, and beauty of the various timbers used."
She said the building's cascading roof responds to the local climate, captures natural light, and encloses this state-of-the-art educational facility. The building has a civic quality, opening up to show the vibrant research activities taking place within it.
In that team's assessment of Grafton Architects' proposal, the group noted its combination of "valid pragmatic ideas with a poetic solution. Simultaneously complex and simple, it expresses a high aspiration. It creates a memorable institutional landmark for the urban landscape of Fayetteville."
The design on the project is scheduled to begin this summer.