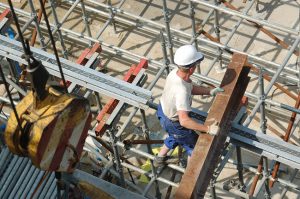 With the COVID-19 pandemic worsening by the week, an ever-increasing share of contractors are reporting cancellations of upcoming projects and shortages of equipment or materials, forcing nearly 40 percent of firms to lay-off employees, according to an online survey by the Associated General Contractors of America (AGCA). Association officials added that 74 percent of firms are seeking new Paycheck Protection Program loans and urged Congress to quickly add more funding for the over-subscribed program, among other recovery measures needed.
"Owners are not only halting many current construction projects but are canceling a growing number of projects that have not yet started," said Ken Simonson, the association's chief economist. "Inevitably, that has caused a growing number of contractors to furlough or terminate jobsite workers."
The finding contrasts starkly with the association's analysis of government data released April 8 that showed a majority of the nation's metro areas added construction jobs through February.
"The metro-level employment data show that construction was still growing strongly in many parts of the country in February, immediately before the pandemic forced contractors to shut down projects and lay-off workers," said Simonson. "In contrast, our survey, completed less than a week ago, found that a majority of respondents had been told by owners or government agencies to cease work."
Association officials said the new February metro employment data, when compared to the recent survey results, demonstrates how quickly construction market conditions have deteriorated because of the coronavirus pandemic. They urged federal officials to begin crafting measures to support the post-pandemic recovery, including funding new infrastructure investments, compensating contractors for cancelled or delayed federal projects, and supporting hard-hit pension plans many construction workers rely on for health and retirement benefits.
"The deterioration of the construction market in many parts of the country has been both swift and severe," said Stephen E. Sandherr, the association's CEO. "Unless Washington officials begin crafting a comprehensive recovery plan that includes measures to help the industry, the industry will continue to suffer even after the pandemic passes."