by Brett Van Beever
Every tenant expects his or her new space to be spotless and perfect on move-in day. Tight construction and tenant turnover deadlines can make these expectations difficult to meet. Whether the project is a renovation or a new build, the appearance of the flooring is often an issue. A professional, post-construction carpet and hard-surface floor cleaning by an experienced floor care specialist can greatly improve the overall look and feel of a space and also helps to deliver a project as the client expects it.
New floors should be free of scratches, nicks, dust, and stains. In an ideal world, a general contractor would plan ahead with a professional flooring and textile maintenance company to perform a post-construction cleaning. Floors would be thoroughly and properly cleaned according to manufacturer recommendations and any construction-related damage repaired, leaving the space ready for client use. Instead, most post-construction cleans are performed by janitorial companies. Professional floor care experts are only called when there is unexpected damage, often just before client turnover.
Keeping floors safe during construction
Construction follows a specific workflow. Carpet and hard-surface flooring are both installed early in the buildout process and are often not adequately protected as the project progresses. Newly installed flooring can take a beating as contractors and trades workers continuously walk through and work in the space. Dust and debris end up on the carpet and flooring along with paint and adhesive, as well as other chemicals and materials, causing unsightly stains.
The heavy demands of the jobsite require reliable protection that will keep floors in new condition, free from residue and accidental destruction. The best choice for protection is melamine board. Durable and reusable, this hard resin material is scratch- and shatter-resistant as well as waterproof to keep floors safe from dropped tools, spills, and debris.
Inappropriate floor protection can exacerbate the situation. Protective sticky-backed plastic runners add to the problem with transference of adhesive to the floor, leaving a residue and attracting dust and dirt. Removing the residual adhesive is difficult and requires the use of solvents, which lower the indoor air quality (IAQ). Another choice, rosin paper, is not durable over the long haul. Both sticky-backed plastic runners and rosin paper puncture easily and tear, allowing dust and liquids to penetrate the surface and adhere to carpet fibers.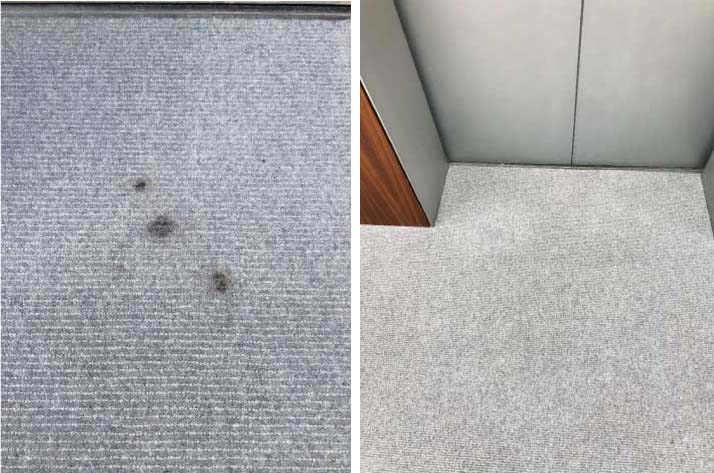 Janitorial services vs. specialized floor care companies
Janitorial companies should be involved in post-construction cleaning. They can quickly and effectively remove construction dust from surfaces, polish glass, and clean up much of the debris. However, they generally focus on highly productive, time-effective methods, employing basic equipment and non-specific cleaning solutions. Given projects never go according to plan, and the time between the end of construction and tenant turnover is short, cleaning mistakes can happen. These can often lead to costly material damage resulting in unexpected costs for patching, repairs, or replacement.
This is when floor care specialists receive an emergency call. They have all the specialized equipment needed to clean both textiles and hard surfaces—including walls—properly. They also have highly trained technicians who know the appropriate chemistries, equipment, and methods to clean according to product specifications. They do more than just clean the floor—they can repair damage, improve the appearance, and safeguard against future mistakes.
Some equipment and cleaning solutions can do more harm than good. For example, spin bonnet machines are detrimental to carpet. The machine works by building up heat and 'de-twisting' the carpet fibers. This cleans the tops of the fibers, but does not get deep into the carpet. It can push the soil down and embed it, instead of extracting it. Recently, an expensive llama hair carpet had to be replaced after a janitorial company damaged the fibers with a spin bonnet machine and then saturated the carpet beyond repair with hot water extraction. The janitorial staff did not recognize the carpet as a unique product or know how to properly care for it.
Hot water extraction should be avoided in post-construction cleanups. The hot water can mix with drywall dust and form cement-like debris, which clings to the carpet fibers.