A Sound Decision: Wood brings acoustic value to structures
by CS Editor | March 3, 2014 9:35 am
by Michael Heeney
When designing a commercial structure, it is important to consider the situational aspects and parameters before selecting the most appropriate building products. While limitations such as budget and availability often sit at the forefront of these decisions, factors like aesthetic details and desired outcomes must be taken into account. One of the chief considerations for many projects should be the acoustics, encompassing everything from sound transmission to absorption and reverberation.
Acoustics plays a major role in the comfort level of patrons and other visitors, making it an important factor in the design process. Both offices and healthcare buildings may want to deaden noise to create a comforting and healing atmosphere, while athletic facilities may strive to maximize sound to promote enthusiasm and encourage crowd engagement.
When considering acoustics, one of the most commonly employed materials of choice has been wood. As a building product with many benefits—from flexibility and aesthetic value to cost efficiency—wood can be a good solution for building designers that want to save costs and achieve multiple goals with limited materials.
For centuries, architects and designers intent on delivering both the highest aesthetic quality and acoustic performance have specified wood to achieve their desired effect. Wood-frame construction has shown to be efficient in buildings where sound insulation is required, and does not present the impact noise transmission issues commonly associated with concrete. In this author's experience working with fellow architects and engineers, the product has been great for not only arenas and theaters, but also any commercial structures in which the occupant experience must be anticipated.
[2]Considerations
Designing a building that is both structurally sound and functional can be challenging, if not impossible, without considering acoustics. Optimal acoustics for a building must account for wide-ranging factors, including:
building location and orientation;
internal HVAC noise from air-conditioning or other equipment; and
location of sound-sensitive functions (such as theaters).
Therefore, it is important the specified building products and their acoustic characteristics be considered early in the design stage. During the renovation of Arena Stage at the Mead Center for American Theater in Washington, D.C., for example, this author's firm had plans to add a small theater to the complex. What was later called "The Cradle" posed an acoustical challenge because of the sound reflections caused by its oval shape. To confront the issue, plans included the development of a wood slat wall system made from poplar. The particular challenge in this situation was to develop a wall system that looked substantive, but did not behave in a substantive manner acoustically—otherwise, the curved walls would have resulted in the sound being focused to some locations and not heard in others.
In the end, the poplar's innate flexibility was ideal; slots were curved and shaped into a basket weave that provided the necessary dispersion to dispel the oval room's focusing characteristics. Since wood was pliable, the wall surface was manipulated to redirect sound reflections.
In the same building, consideration also had to be given to location and the surrounding environment. Sound isolation was critical to the success of the three theaters in the complex—it was essential to block the distracting exterior noise to ensure optimal audibility for the audiences. As a first line of acoustic isolation, a hybrid wood and insulated glass exterior building envelope was developed. The generous structural spacing, afforded by the heavy timber columns, maximized transparency in the envelope system while maintaining the acoustic barrier. This envelope encloses the new lobby and offices and the theaters themselves, providing further acoustic isolation.
Wood was also used throughout due to its aesthetic warmth and excellent natural sound attenuating properties. Since the project did not allow for a large budget for finishes, the building structure had to be innately attractive while still offering a cost-effective solution that achieved the necessary structural and acoustic balance.
Modern applications
Schools in particular have made use of wood's acoustic benefits. For a performing arts theater in a high school in El Dorado, Arkansas, wood deflectors were specified to help acoustically tune the space. Similarly, a Duke School in North Carolina features absorptive wood wall panels with batt insulation covered in fabric.
For schools, numerous studies have also demonstrated chronic noise exposure negatively impacts the education experience, making acoustics a critical design concern. Wood cannot only be used to confront this issue, but also encourages learning through biophilia—the instinctive attraction to natural building materials. Evidence suggests an improved natural internal environment can contribute to an individual's sense of well-being. In an office or school, wood is thought to improve performance and productivity; in a hospital, it may have a positive impact on patient recovery.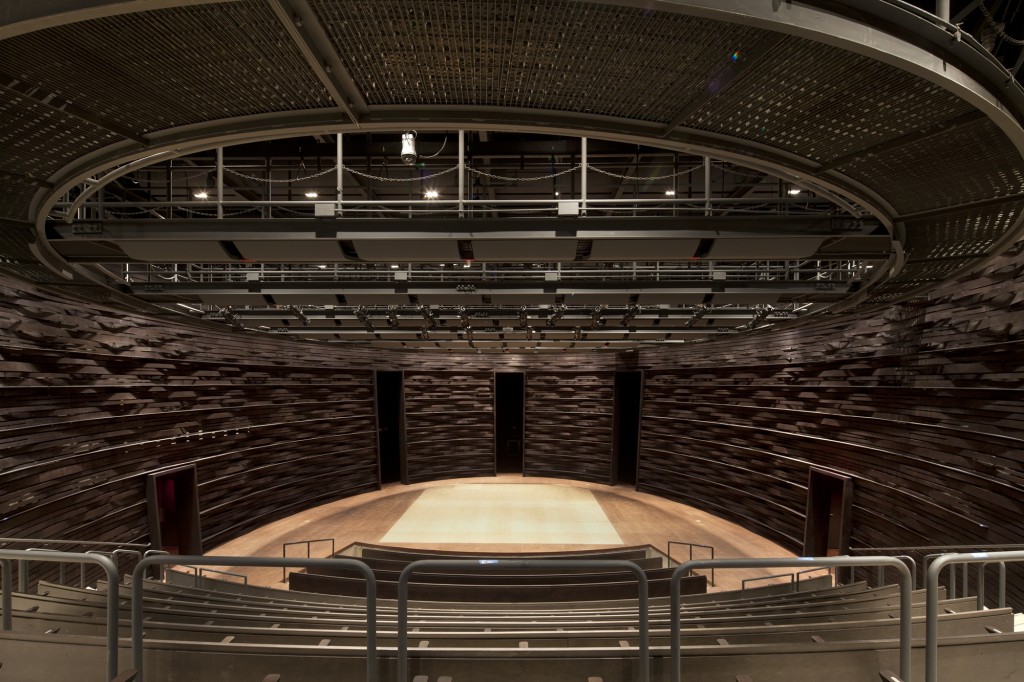 [3]In addition to anticipating patron needs and desired visual impact, acoustics play a significant role in building code requirements for safety. According to Acoustics.com[4], poor sound control in a building can contribute to unsafe working environments and needless expenditures in insurance payouts. In fact, 30 million American workers are exposed to potentially dangerous noise levels at work and hearing loss is the most reported work-related injury. Design professionals can help improve safety levels and mitigate this liability by paying attention to the acoustic materials used in the spaces they design.
How wood measures up
As a natural building material, wood also supports the growing pressure on architects and engineers to design buildings that meet green certifications. Though most building rating systems do not recognize acoustics, poor performance in this area is often a problem associated with large areas of hard reflective surfaces that can be common in green buildings.
Wood is a good solution for both acoustic and environmental building requirements because it is a renewable material with proven sound-absorbing qualities. These products have low embodied energy, are responsible for minimal air and water pollution, and have a light carbon footprint—in fact, they can be considered a form of carbon sequestration. Acoustical timber panels can be used in place of other building materials that require more embodied energy, and could result in higher levels of greenhouse gas (GHG) emissions if wood was not used.
A well-rounded, natural building material that can be used in innovative ways, wood offers a uniquely multifunctional and responsible solution for building designers looking to create an acoustically sound structure that meets building codes and adheres to environmental considerations. Code-compliant, renewable, and aesthetically pleasing, the material is not only a functional choice, but also one architects are looking to incorporate more often to achieve creative aspects in building design.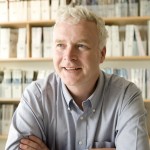 [5]Michael Heeney, Architect AIBC, FRAIC, is a Vancouver architect and principal at Bing Thom Architects (BTA), where he has practiced for over 25 years. He has played a leadership role on many of BTA's projects including the Chan Centre for the Performing Arts (Vancouver), the Mead Centre for American Theatre at Arena Stage (Washington, D.C.), the Trinity East Campus for Tarrant County College (Fort Worth, Texas), and the new Surrey City Centre Library in British Columbia. He can be reached at mheeney@btagroup.
Endnotes:
[Image]: http://www.constructionspecifier.com/wp-content/uploads/2014/03/Arena-Stage_Main-Lobby.jpg
[Image]: http://www.constructionspecifier.com/wp-content/uploads/2014/03/02-Arena_Exterior-View.jpg
[Image]: http://www.constructionspecifier.com/wp-content/uploads/2014/03/Arena_Cradle-Theater-Interior.jpg
Acoustics.com: http://acoustics.com/safety.asp
[Image]: http://www.constructionspecifier.com/wp-content/uploads/2014/03/g000-TB-Michael_H-library-026-reduced.jpg
Source URL: https://www.constructionspecifier.com/a-sound-decision/
---