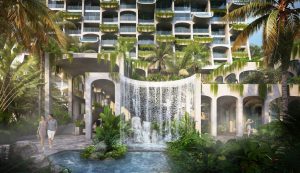 Inspired by the Philippine's traditional vernacular, the Abaca Resort Mactan Hotel features architectural design that compliments its surrounding nature.
A curved silhouette rises above the tree canopy and the layered topography of pools and waterfalls. The subtly concave volume embraces panoramic ocean views, built up from a vertical frame of arches that stack, recess, and protrude to form shaded balconies and floating pools in the sky. The tower is surrounded by greenery and social habitations.
The arched curvatures of the façade extend to the inside of the Suites and Sky Villas, providing a sense of enclosure. With their outdoor terraces and private plunge pools, both Suites and Sky Villas attain the notion of individual bungalows with ocean views.
Arched colonnades recall ancient archaeological structures rooted in the jungle and frame exterior arcades amid the landscape. Multi-level terraces and water basins offer private and intimate areas for gatherings.
Through mobilizing passive energy-saving strategies, the building minimizes heat gain and maximizes energy efficiency. It capitalizes on natural ventilation with open corridors that are punctured by green pocket gardens, as well as the possibility for full cross ventilation of all interior spaces. Water conservation systems are customized for tropical climates and create biotopes throughout the waterscapes of the project. Materials will be locally sourced to support local economies and reduce the radius of transportation.