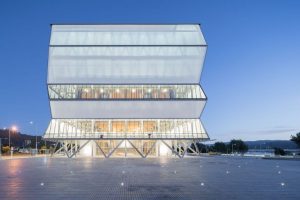 The American Academy of Arts and Letters has announced the recipients of its 2018 architecture awards, selecting five winners from a group of 32 individuals and/or practices nominated by members of the academy.
This year's recipients are:
Arnold W. Brunner Memorial Prize
Arts and Letters Awards in Architecture
Brad Cloepfil;
Mass Design Group;
Cassim Shepard; and
William Stout.
This year's winners were determined by jurors Annabelle Selldorf (chair), Kenneth Frampton, Steven Holl, Thom Mayne, James Polshek, Billie Tsien, and Tod Williams. The academy's annual architecture awards began in 1955 with the inauguration of the Arnold W. Brunner Memorial Prize; the accolades have since expanded to include four Arts and Letters Awards. The Memorial Prize awards $20,000 to an architect of any nationality who has made a significant contribution to architecture as an art, while the Arts and Letters Awards give $10,000 to Americans who explore ideas in architecture through any medium of expression.
The awards will be presented at the American Academy of Arts and Letters ceremonial event in New York City. Additionally, the winners' work will be featured at the academy's galleries on Audubon Terrace in New York.
To read more, click here.