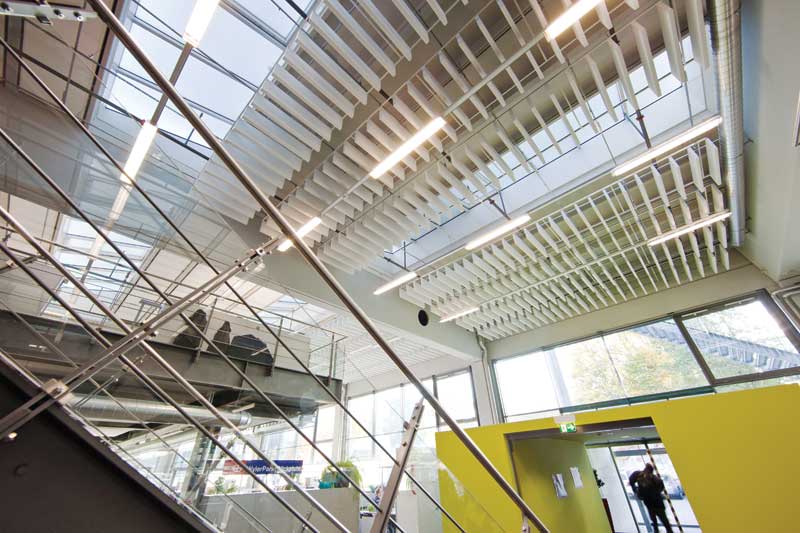 by Gary Madaras, PhD, Assoc. AIA
When some people consider sustainable buildings, they think of wood from a certified forest, whether carpeting was used, or if harvested rainwater was employed for landscaping. Others may think of energy efficiency, solar panels, and daylighting to reduce electric light usage. In other words, sustainability is often seen as being about the impact the building makes on the natural environment, and how much energy and water the building uses. While these are very important considerations, they are not the main focus of what makes a building sustainable.
The biggest resource expended in buildings is on its occupants—even more than the materials used to construct it or the energy used during its lifetime. The World Green Building Council's (WGBC's) 2014 report, "Health, Wellbeing, and Productivity in Offices: The Next Chapter for Green Building," says 90 percent of business operation costs are staff related. Only one percent of costs are energy-related. Additionally, staff spends 62 percent of their time doing quiet work—'quiet' being the operative word. Sustainable buildings should actually be equated to the preservation and efficient use of human capital, and a quiet work environment is necessary for this.
Almost everyone can relate to the waste and inefficiency noise causes. The lost time, mistakes, and stress of each individual, multiplied by all the people in a building, can be partially attributed to poor acoustic design, which, in turn, can indicate whether a building is sustainable or not.
This acoustics relating to sustainability paradigm shift is starting to materialize in both the U.S. Green Building Council's (USGBC) Leadership in Energy and Environmental Design version 4 (LEED v4) and the Green Building Initiative's (GBI's) Green Globes certification program. In LEED 2009, there were only well-developed acoustic criteria sections for schools and healthcare facilities. LEED v4 has acoustic criteria for office buildings, multi-family residences, hotels, retail stores, courtrooms, laboratories, libraries, and gymnasia. Clearly, the importance of acoustic design in the definition of sustainability is increasing. However, there is more progress to be made with these sustainable rating systems. The acoustic sections need to better align with other, more developed, acoustics industry standards and guidelines. Additionally, the credits or points earned for good acoustic design need to be increased to better represent the effort, cost, and impact on occupants.
Important trends changing the rules
Trends in design seem to be at odds with acoustic requirements in the standards, guidelines, and rating systems. For instance, what may have been considered successful two years ago may no longer pass the test. Buildings are becoming more open with large collaboration spaces. The days of private, enclosed, offices are gone, with a limited number of public huddle rooms or quiet rooms replacing them. More people are occupying less space and spatial dividers between workstations are becoming lower or are disappearing altogether. Bare structural slabs are replacing carpeting and carpet tiles. More buildings—especially sustainable ones—are foregoing a once-standard suspended acoustic ceiling in favor of exposed structure above. Post-occupancy calls to acoustic consultants and acoustic material manufacturers are on the rise.
Whether it is a design for a building that has not yet been constructed, a fix for an original design gone wrong, or a renovation/adaptive-reuse, the solution is the same. With mostly open spaces, few walls, no carpeting, and a high concentration of people, most projects rely on a high-performing, sound absorptive system overhead. This can be a more traditional contiguous suspended ceiling, an array of acoustic islands, or baffles hung amongst the structure, lights, and ducts. Regardless, there must be a plan for some type of sound absorption in all spaces normally occupied by people.