By Diana Hart, CSI, IIDA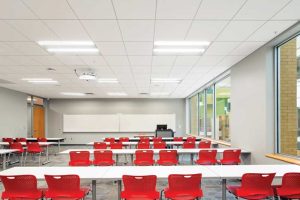 While specification and design professionals have long considered the effects of material and product choices on the people within the spaces and buildings they create, the COVID-19 pandemic has underscored the importance of designing healthy spaces. With a greater understanding of indoor environmental quality, acoustic ceiling material choices, and relevant product certifications, specifiers can have a positive impact on buildings' indoor air quality (IAQ), lighting, safety, acoustic comfort, and, ultimately, on people's health and well-being.
IEQ and influential standards
Acoustic ceiling product selection and specification impact four key elements of Indoor Environmental Quality (IEQ):
• acoustics;
• IAQ;
• lighting (including daylighting); and
• fire protection.
Green building standards and certification programs help amplify the message of IEQ's effect on occupant health and well-being. Two of the most influential standards are the U.S. Green Building Council's LEED v4.1 and the International WELL Building Institute's WELL v2.
• LEED v4.1's EQ credit category recognizes the benefits of low-emitting materials including Underwriters Laboratories Inc. (UL) GreenGuard Gold-certified products, as well as the benefits associated with acoustic performance and interior lighting.
• WELL v2 Pilot's "10 Concepts" approach addresses IEQ in Air, Light, Thermal Comfort, Sound, and Materials concepts.
In addition, the International Living Future Institute (ILFI) is gaining awareness and adoption for its Living Building Challenge 4.0 program's seven performance 'Petals' and 20 'Imperatives.' Healthy Interior Environment and Health Interior Performance are two of the imperatives. Living Building Challenge certification is based on 12 months of actual data of the operational, occupied space.
High sound absorption, low reverberation
Acoustic comfort is an essential IEQ element necessary to create comfortable, functional rooms for speech, focus, activity, music, and more. Interior ceiling systems with sound-absorbing materials play a significant role in providing a good acoustic experience. Selecting and specifying acoustic ceiling panels with a high noise reduction coefficient (NRC), typically an NRC 0.90 or higher, will provide the necessary sound absorption.
The acoustic ceiling tile NRC rating refers to how much sound the ceiling material can reduce noise by absorbing sound. A higher number indicates more absorption. NRC generally varies between 0 (no absorption) and 1 (very high absorption) and is the average of the sound absorption coefficients at four frequency ranges, the 250, 500, 1000 and 2000 hertz (Hz) octave bands. Ceiling noise reduction is measured according to ASTM C423, Standard Test Method for Sound Absorption and Sound Absorption Coefficients by the Reverberation Room Method. Using higher NRC ratings also can reduce cost because fewer sound-absorbing products need to be installed to reach the goal amount of absorption in the room.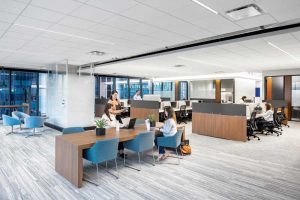 Ceiling panels with a high NRC offer numerous benefits to occupants. A good acoustic experience does more than ensure more people are heard and understood. Unwanted and unclear sounds interfere with communicating, concentrating, sleeping, and other daily tasks. Noise has both physiological and psychological impacts. Short-term, it activates the 'flight or fight' stress response that raises blood pressure, increases heart rate and respiration, and often leads to irritability and distraction. Sustained exposure to disruptive noise can lead to lasting, long-term health effects and hearing loss.
In offices, excess noise results in a drop in performance and impaired concentration. The U.S. General Services Administration's Public Buildings Service (PBS) manages 34.4 million m2 (370 million sf) of space. With a mission to deliver "superior workplace at superior value for the U.S. taxpayer," PBS found every distraction takes a person approximately 15 minutes to return to a focused task, resulting in a high cost of wasted time and productivity due to poor acoustics. Among its solutions, PBS recommends, "Specify ceilings having a minimum NRC of 0.90 in open plan offices."
In classrooms, acoustics can determine whether students are heard when asking questions, comprehend their lessons, act out from frustration, and can focus when taking tests. In many classrooms, listeners with normal hearing can only understand 75 percent of the words spoken.
In schools with poor acoustics, teachers and staff must strain to be heard. They become less effective and less satisfied in their work. Their stress increases and their health suffer. In fact, one survey reported 20 percent of teachers missed work due to voice problems.
In healthcare facilities, acoustics and quiet promote rest and recovery for patients. A good acoustic experience also helps lower stress for staff and visitors, reduces medical errors with improved accuracy, and provides the necessary privacy to protect patient confidentiality. Acoustic requirements are outlined in several healthcare facility standards, including the Facility Guidelines Institute's (FGI's) Guidelines for Design and Construction of Hospitals, the Health Insurance Portability and Accountability Act (HIPPA), LEED, and WELL.
LEED v4.1 offers acoustic credits in three categories and WELL v2 includes 'sound' as one of its 10 'concepts' with eight corresponding 'features.' Using a three-step approach to optimized acoustics supports these programs' criteria and creates spaces that support people's comfort, health, and well-being.
Selecting the appropriate NRC rating for ceiling panels, absorbing sound, and controlling reverberation and noise.
Selecting the appropriate sound transmission class rating for wall and floor-to-ceiling assemblies, preventing noise transfer between rooms using full-height walls.
Selecting the proper background sound levels, masking annoying or distracting noise.