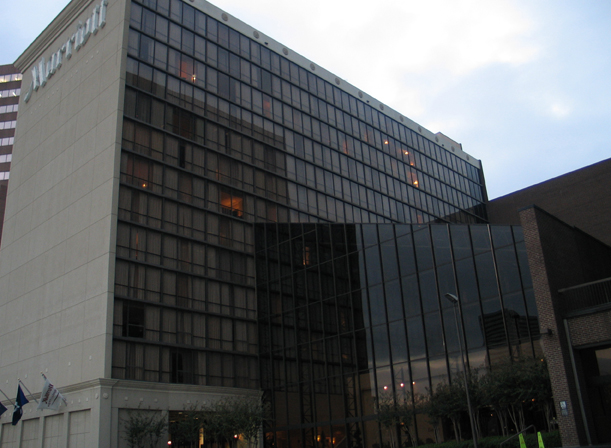 by Randal R. Brown
Online trip advisory reviews have ushered in a harsh new business environment for hotels, motels, and inns that live or die by referrals. If a guest had a lousy night's sleep due to exterior noise from traffic, railroads, or activity at the swimming pool, the manager may be the last to know. Viral grousing has gone ballistic; its impact can be immediate and long-lasting for hospitality chains that lack a nimble damage control strategy.
However, the absence of a posted review does not necessarily indicate satisfaction. A guest unhappy with a room due to excessive exterior noise may say nothing to management, but likely will not return. They may also complain to friends and business associates, where negative word-of-mouth travels fast.
Despite online rebukes, well-managed hotels acknowledge they are prisoners of a paradox—they must build near major thoroughfares, highways, and rail services so they are accessible and convenient, but this ideal location is also often the source of the noise problem. As noise awareness grows, some proprietors mistakenly believe the only solution is replacing every window—an expensive upgrade with no guarantee of success. Two brief case studies show why this is not the case.
Sound sleeping at Sandestin
The guests of Residence Inn Sandestin at Grand Boulevard (Miramar Beach, Florida) often complained about road noise—the hotel fronts a busy street and highway. Despite excellent staff service, guest feedback included remarks such as, "I couldn't get a good night's sleep," according to Tania Koehler, director of hotel operations for Howard Hospitality, which manages the Marriott property. She calculated almost three-quarters of the negative comments the hotel received through online review sites mentioned extremely high level of noise.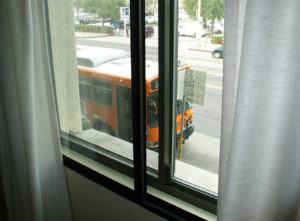 For more than a year, management researched solutions. Multiple studies revealed the vast majority of noise seeps through windows, rather than walls. While dual-pane windows may effectively deter heat and cold, a much different type of acoustic engineering is needed to block loud, exterior sounds.
For many hotels, the best solution is not to replace every window, but rather to add a second, inner soundproofing window. This method controls temperature as well as eliminates intrusive noise. These special panels, which can be operable or fixed, need only be applied to areas where noise is most disruptive.
In 2015, Howard Hospitality contracted with a manufacturer to install 176 special inner windows along the front of its Miramar Beach property. The company won the bid not merely because their product was less expensive than competitors, but because the testing process and specificity of the plan to resolve the noise nuisance were superior. It had technical experts stay in the hotel for two nights to conduct noise testing, and had one test window installed in a two-room suite to illustrate how noise levels would drop 95 percent.
Acoustic expertise was the key to successful remediation—it is not enough to add thicker or more layers of glass. The product chosen by Howard Hospitality was engineered by professionals that have developed strategies for sound recording studios and other sensitive environments. A typical sound transmission class (STC) rating for standard windows is 26 to 28, whereas the new soundproof ones were rated at STC 52 to 55.
It is important to remember some manufacturers provide an STC rating for the glass they use, but do not include the window frames. This can make for deceptive metrics because successful noise reduction is based on not only the glazing, but also factors such as the seals, the air gap between the windows, and the acoustic design of the window frames.
In 2014, Residence Inn Sandestin at Grand Boulevard was ranked 74th among 687 Residence Inn hotels nationwide. Last year, post-installation, it jumped to 14th, with virtually all online noise complaints muted.
Historic remedy
Historic districts that preserve beautiful but aging buildings also create problems for ownership. Since the exterior design cannot be tampered with, swapping out old windows for new is rarely approved—even if guests complain regularly about noise. By installing an inner window, hospitality teams improve occupant experience and respect architectural history.
Mark Everton, area managing director for Commune Hotels and Resorts, faced a different challenge. The Waterfront Hotel at Jack London Square (Oakland, California) is not a designated historic site, but it was built in the 1960s next to a railroad crossing. Passenger and freight trains, north and south bound, regularly blow through with horns blaring and safety guard rails ringing their alarms.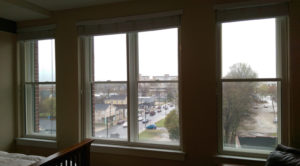 "The majority of our online reviews at TripAdvisor and other sites were people being inconvenienced by the noise," he explained, "and our internal guest satisfaction survey was equally negative in that area."
Another problem arose when an ownership group decided the site needed noise remediation, even though replacing windows would do considerable damage to the stucco façade. It fell to Everton to find an economical remedy.
To check the performance of acoustic windows, he decided to see first-hand how effective a manufacturer could be. Everton chose three guest rooms, stacked on multiple floors in the front of the hotel. One room was not altered. Test windows were installed in the other two rooms—one with a 16-mm (5/8 in.) thick inner window and the other with 6-mm (¼-in.) window.
An independent acoustic firm then analyzed the test results. When compared to the room without an inner window, the room with the thicker glass inner window eliminated noise by 75 percent, exceeding the other test product. The experiment won Everton over and also proved noise was entering through the windows, not the walls.
Still, the order for 75 windows was challenging because of the variety of window sizes and shapes on the face of the building—rectangular that open and porthole-style. Sliding doors opening into patios are also used in some rooms. Fortunately, since the products chosen could be configured to match any existing style of window or sliding door, the installation took a week.
"Our online scores and ranking have gone up. In our internal survey, before the change, noise was our number-one complaint. Now it has receded to an occasional mention," says Everton, adding TripAdvisor now ranks the Waterfront at No. 2 out of 48 Oakland hotels. This year, the Waterfront Hotel's owners have approved installation of these specialized windows in the rest of the hotel.
Randall R. Brown is the owner of Soundproof Windows Inc. He initially developed the early versions of these products to solve noise problems in his home. Brown's background knowledge about windows came from working with his father, who worked for a high-quality storm window company back in the 1960s and 1970s.