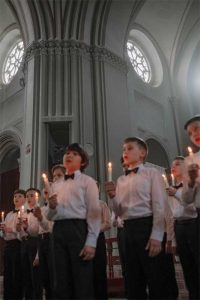 By Buddy Siebenlist
Religious services are carefully customized to deliver timeless and transformative messages evoking thought and contemplation. To produce the maximum effect, they should stimulate the senses as well as the mind.
The sights and sounds of the churchgoing experience should enhance the feeling of being immersed in an inspirational environment, where hope is generated, and burdens are lifted.
In a worship-centered context, the importance of sound and its effect on the listener cannot be overstated. This article does not look at content of the music or spoken messages, but to the actual quality of the sound itself. People associate the churchgoing experience with a particular atmosphere, and a church's acoustics play a foundation role in creating a unique and memorable ambiance.
Complexity of the church acoustical model 
Fundamentally, a church is a place of sound. Acoustic design is a primary consideration, whether the church space is a worship center, a sanctuary, a chapel, a Sunday school classroom, a fellowship hall, or a family life center. Consequently, the architect must understand and skillfully design the auxiliary physical elements of the project space to ensure acoustic performance of the highest possible quality.
Churches are constructed from a diverse mix of materials. Frequently designed for multiple uses, churches may incorporate stone, marble, glass, concrete, brick, and wood into their building plans, all of which have unique acoustic characteristics. This makes for a complex acoustical profile, as do some of the unique features churches often include, such as high ceilings and large glass windows. The materials used inside churches add another layer of complication to the overall acoustic picture.
To obtain accurate calculations of sound quality, church architects must create a realistic model including all the above elements. They can now create 3D models that visually represent a specific church's acoustical characteristics using modern software programs.