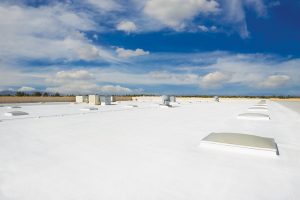 by Doug Kramer
The life of a flat commercial roof is difficult. From the extreme heat and ultraviolet (UV) rays of summer to frigid winters, unpredictable weather patterns, and excessive rain, commercial flat roofs are subject to high levels of wear and tear. As climate change delivers harsher weather systems and unpredictable freeze-thaw cycles throughout winter, commercial buildings with large flat surface areas are susceptible to leaks and moisture.
Roof failure usually takes place at penetrations, seams, and edges where dissimilar materials meet. Further, minor structural issues can cause additional challenges such as poor drainage and ponding water. Low-slope roofing is often a compromised system requiring costly maintenance, repairs, and eventually replacement.
A variety of technologies in roof coatings have long-standing performance records when the right choice is made based on the needs of the individual roof. Acrylics have been used to coat commercial roofs, but they do not take well to ponded water. However, on well-designed roofs with sufficient slope, acrylics are an efficient and economical solution. Silicone is another well-established and recognized technology with decades of proven performance in the most rigorous of conditions and used to seal as well as protect low-slope commercial roofs.
Roofs are the black sheep when it comes to commercial building maintenance. Before a commercial low-slope/flat roof becomes non-performing, it can be restored with a seamless, stable, and energy efficient silicone coating. This can dramatically extend the roof's life expectancy, delaying the need for costly and time-consuming maintenance or replacement.
Silicone is durable and permanently flexible. It is virtually unaffected by daily and seasonal temperature extremes, is UV stable, and does not become brittle or harden as the roofing system ages. Its technology is unlike acrylic, polyolefin, asphaltic, and carbon-based polymer chains.
Some of the key performance features of silicone include:
Ponding water: Unlike many other coating technologies, silicone coatings are water resistant and do not revert or deteriorate when ponding is unavoidable.
Improved life-cycle cost: The primerless, single-coat application of silicone brings efficiency and cost savings to the installation process. Longer durability means lower roof life-cycle costs.
Energy savings: White silicone roofing saves more on energy than a black roof. According to most North American hydro companies, savings can be as great as 35 percent on summer cooling costs. Silicone coatings deliver excellent color retention capability and reflectivity, providing a cool roof and energy savings.
Full compatibility: Using 100 percent silicone components that are compatible from a chemical and adhesive standpoint, helps prevent water leakage, mold/mildew, wood rot, and metal rust. Silicone can be applied to most existing roof types including asphaltics (built-up roofs [BUR] and modified-bitumen), single-ply (thermoplastic polyolefin [TPO], polyvinyl chloride [PVC], ethylene propylene diene monomer [EPDM]), sprayed polyurethane foam (SPF), concrete, and metal.
Exceptional longevity: The technology remains flexible at a range of temperatures throughout the life of the building, both initially and after decades of exposure.
Cold weather application: The product can be rolled or sprayed. It can extend the roofing season with its efficient curing in cooler temperatures. An installed silicone membrane has unmatched cold temperature performance and flexibility.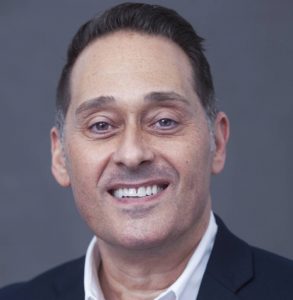 Doug Kramer is president of Icynene-Lapolla, a U.S. and Canada-based manufacturer and global supplier of sprayed polyurethane foam (SPF) and coatings. He is a member of the Spray Foam Coalition and a former board member of the Spray Polyurethane Foam Alliance (SPFA). Kramer attended Penn State and University of Texas. He can be reached at dkramer@icynene-lapolla.com.