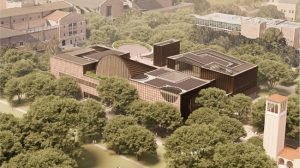 International architecture firm Adjaye Associates has been selected to lead the design of a new student center at Rice University, Houston, Texas, that will largely replace the Rice Memorial Center (RMC).
Rice hopes to break ground on the project in the first quarter of 2022. Current plans are for a few elements of the RMC—the chapel and cloisters—to remain, while the majority of the RMC would be demolished to make way for the new facility. Anticipated completion is in fall 2023.
The architect's winning concept lays out a three-story, 7432-m2 (80,000-sf) structure incorporating the functions at the RMC, along with a multicultural center and a rooftop auditorium.
Adjaye Associates was among three finalists to present concepts remotely for the new facility. They were narrowed down from a longer list of candidates by the board of trustees' Buildings and Grounds Subcommittee for Design. The winner was selected by a committee of Rice administrators and faculty, with input from the Rice Student Association and Graduate Student Association, to begin the preliminary design process.
"Building on the insights of Rice graduates at his firm, Sir David's competition submission reflected a deep understanding of the needs of our student community, including the need to support diversity and inclusion through a vibrant and prominent multicultural center that is a central element of this project," said David Leebron, Rice president.
Houston-based Kendall/Heaton Associates will serve as executive architect, and Tellepsen will provide preconstruction services.
The new facility will also incorporate an important facet of the current RMC, a memorial to 10 Navy ROTC students who died when their transport plane crashed in 1953 and for whom the building is named.
The building will be the second at Rice to be designed by a Royal Gold Medal winner, selected by Queen Elizabeth II on behalf of the Royal Institute of British Architects (RIBA). Adjaye was recently named the 2021 recipient of the award, which honors those who have had a significant influence on the advancement of architecture. The first Rice building by a medalist was the 1981 addition to Anderson Hall by James Stirling.
"This is an important and inspiring project for Adjaye Associates and we look forward to collaborating with Rice to imagine a new campus anchor point that engages its community in the most inclusive way possible," Adjaye said. "Responding to the architectural history of the university, the City of Houston, and the region, the student center will come to embody its position at the heart of the campus, fostering catalytic connections between undergraduates, graduates, faculty and staff activated in both the threshold and formalized spaces of the new building," he said.