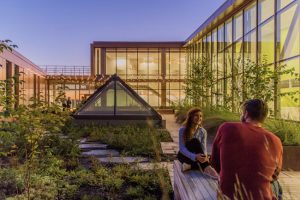 The American Institute of Architects (AIA) Committee on the Environment (COTE) has announced this year's recipients of the COTE Top Ten Awards.
COTE bestows the award annually on 10 design projects that have expertly integrated design excellence with cutting-edge performance. The COTE Top Ten winning projects illustrate the solutions architects provide for the health and welfare of communities and the planet.
To be eligible, project submissions are required to demonstrate alignment with COTE's rigorous criteria, 10 measures that include social, economic, and ecological values. The five-member jury evaluates each project submission based on the effectiveness of their holistic design solution and metrics associated with the 10 measures.
This year's COTE Top Ten Awards recipients are:
Jurors also designated one project as a Top Ten Plus recipient for its exceptional post-occupancy performance data. This year's recipient is the Environmental Nature Center and Preschool (Newport Beach, California) by LPA, Inc.
To read more, click here.