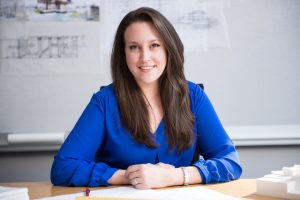 The American Institute of Architects (AIA) Young Architects Award honors individuals who have demonstrated exceptional leadership and made significant contributions to the architecture profession early in their careers. This year's recipient includes Erica A. LiBritz, AIA, LEED AP, senior associate at CetraRuddy Architecture DPC.
One of only 22 honorees nationwide, LiBritz was recognized for her work in urban multifamily developments and her contributions to the field through mentorship and active engagement in professional and philanthropic groups. In particular, the award highlights LiBritz's role in one of CetraRuddy's latest high-rises—an 80-story, 335-m (1100-ft) tower under construction in Manhattan's Financial District. Reflecting on the design solutions for the narrow, 19-m (63-ft) wide site, the jurors commended LiBritz for "boldly engaging large-scale, complex projects in challenging urban environments," and for her ability to "find opportunities hidden among the challenges the city presents."
Click here for the full list of winners.
The AIA Associates Award is given to individual Associate AIA members to recognize outstanding leaders and creative thinkers for significant contributions to their communities and the architecture profession. This year's recipients include: