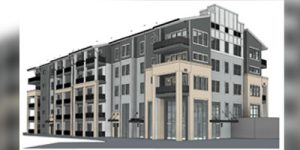 General contractor LandSouth Construction (LandSouth) has started work on The Livano Nations, an amenity-rich multifamily community in Nashville, Tennessee.
The project is scheduled for completion in late 2023. Jeff Ryan is the LandSouth project manager, Charlan Brock Architects is the architecture firm, and LIV Development is the owner/developer.
The Livano Nations will be a distinct, eight-building, garden-style community, with a mixture of three-, four-, and five-story buildings. It will contain 319 units, ranging from 70 to 144 m2 (750 to 1545 sf). Residents can choose from six different floor plans, offering one, two, or three bedrooms, with balconies on all units. The Livano Nations will also include numerous amenities, including a pool, a clubhouse, a sky lounge, a pet spa, a coffee shop, and a fitness area.
"Nashville is growing at an astounding rate," said Jeff Ryan, project manager with LandSouth. "We're excited to bring this high-end multifamily community to the area."