Blindside waterproofing challenges
Due to the complexities of blindside waterproofing, many design/build professionals recommend a combination of technologies. During the construction of a new university building outside of Toronto (Ontario, Canada), a three-layered, below-grade waterproofing system was installed in a blindside application for enhanced redundancy.1 After the wood lagging wall was installed and approved, drainage board was attached to the wall with drains at the footing as well to direct the flow of water through pipes into the sump pit. From there, a layer of HDPE laminated to sodium bentonite was mechanically fastened. Lastly, an asphaltic membrane was spray-applied to create continuous protection of all the penetrations and seams and give the bentonite added weatherability. This combination offered the best of all technologies in terms of reinforcing durability, flexibility, and complete coverage. In the end, there were no reported leaks or callbacks.
Often, material performance alone is not enough to protect the building envelope. The installations themselves pose challenges that can negate the effectiveness of the waterproofing as a barrier to moisture intrusion. Penetrations of the waterproofing membrane by other trades are a common source of failure.
The problem can be remedied if caught before the concrete is poured. If not, repair methods can be deployed to minimize water ingress, but they are not always a comprehensive fix. The injection of epoxy or polyurethane materials at various locations can try to stop the flow of water but lateral movement may still occur, making it difficult to find the source of the problem. If that does not work, cementitious or capillary treatments have shown some success, or the more expensive and destructive process of excavation may be necessary.
Pre-construction meetings
The purpose of the pre-construction meeting is to establish clear communication and collaboration between all the parties, including design professionals, trades, and manufacturers. It ensures everyone understands their responsibilities and timelines to mitigate any ambiguities throughout the installations.
In the pre-construction meeting, the group should complete the following:
review all project drawings and system specifications to determine if the proposed details can be constructed as intended by the design professional;
confirm product selection and compatibility with each trade;
examine construction details including tie-in areas;
identify sequencing of all trades with a comprehensive construction schedule; and
discuss any other project-specific considerations.
In blindside waterproofing, sequencing is imperative to identify repair protocol should a subsequent trade intentionally or inadvertently penetrate the waterproofing membrane. This conversation helps prevent conflict down the line and increases the chances of damage being caught and addressed before concrete is poured, thus ensuring the long-term integrity of the waterproofing installation.
Surface preparation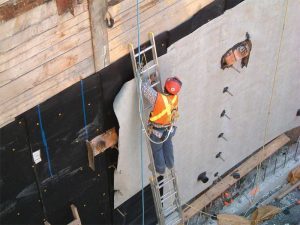 The surface to be covered must be smooth, firm, and free from mud, loose mortar, wires, fins, metal projections, or other substances preventing placement of membrane. With a wood lagging wall, no gaps greater than 25 mm (1 in.) are acceptable. Any protrusions or changes in plane greater than 6 mm (0.25 in.) should be made even with mastic, sealant, or plywood.
Pay attention to vulnerable areas
The lack of proper detailing and installation of proper gaskets or waterstops in the structure are the most common causes of ground water ingress. Special attention should be made to the following areas below-grade as they are particularly prone to moisture infiltration:
seams, penetrations, and tiebacks;
cold joints;
expansion joints;
foundation drains;
structural connections;
damaged membranes; and
transitions and change of condition or plane.
Always check the blindside
For water management at below-grade conditions, the blindside process is a challenging but necessary and an increasingly common method. When designing waterproofing and drainage at this location, it is crucial the selected systems be effective for the unique jobsite circumstances, such as water table height, hydrostatic pressure, construction method, soil characteristics, and climate.
By understanding the intersectional factors tying into product application, construction professionals will be better armed to communicate their needs to the rest of the design/build team and ensure a quality and durable installation. Addressing the areas susceptible to moisture intrusion ahead of time can prevent callbacks, as it can be difficult and expensive to remediate below-grade leaks after construction.

John Trenta is application manager in the product management department at Tremco Commercial Sealants & Waterproofing. He has managed fluid and sheet-applied below-grade waterproofing product technologies, assemblies, and accessories, and also addresses the needs of construction professionals with the management of the Tremco Sealants and Adhesives product portfolio. He supports Tremco's high-performance building envelope strategy with a focus on innovative product solutions and their connectivity across multiple building enclosure systems.