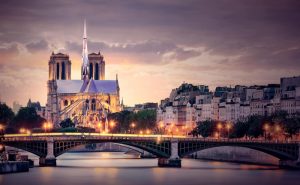 Chinese designers Zeyu Cai and Sibei Li are the winners of the People's Notre-Dame Design Competition, which reimagines the historic cathedral in Paris.
After the massive fire destroyed much of the iconic landmark, independent book publisher GoArchitect organized a competition that garnered 226 entries from 56 countries. More than 30,000 people voted for their favorite designs.
The winning concept, Paris Heartbeat, interprets a new spire in poly mirrors with a mirrored roof. Every moment, the building will have a new look, matching the changing urban environment. A floating time capsule, designed to open once in 50 years, is floating at the top of the spire.