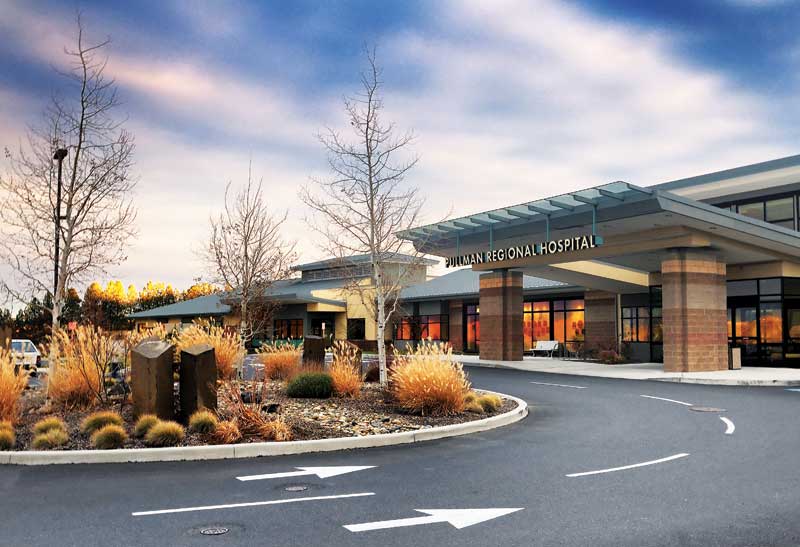 by Adam Estelle
Even in the most proactive hospitals, actions such as opening doors, flushing toilets, and turning on faucets can expose patients, healthcare workers, and visitors to antibiotic-resistant superbugs including methicillin-resistant Staphylococcus aureus (MRSA) and vancomycin-resistant Enterococcus faecalis (VRE), which can survive on traditional surface materials like stainless steel and plastic for days or even months.
Through installing hardware and components made of antimicrobial copper, hospitals across the country are supplementing their infection control programs. This material continuously kills more than 99.9 percent of bacteria transferred by touch within two hours between regular cleanings, even after repeated contaminations. Grinnell Regional Medical Center—an Iowa healthcare facility consisting of 49 beds and serving 40,000 residents—is one of those early adopters of antimicrobial copper to further protect its patients, staff, and visitors alike from harmful bacteria. (See the EPA public health registration for copper alloys at www.antimicrobialcopper.org/us/epa-registration for more information.)
In a perfect world, healthcare providers would wash or sanitize their hands before and after each patient contact, but many studies have found staff adhere
to national guidelines for hand hygiene less than 50 percent of the time. While antimicrobial copper products are a supplement to, and not a substitute for, standard infection control practices like washing hands and disinfecting surfaces, the advantage of copper is it is always working. Its effectiveness is not dependent on behavioral compliance of hospital personnel beyond routine cleaning and disinfection of the copper surfaces.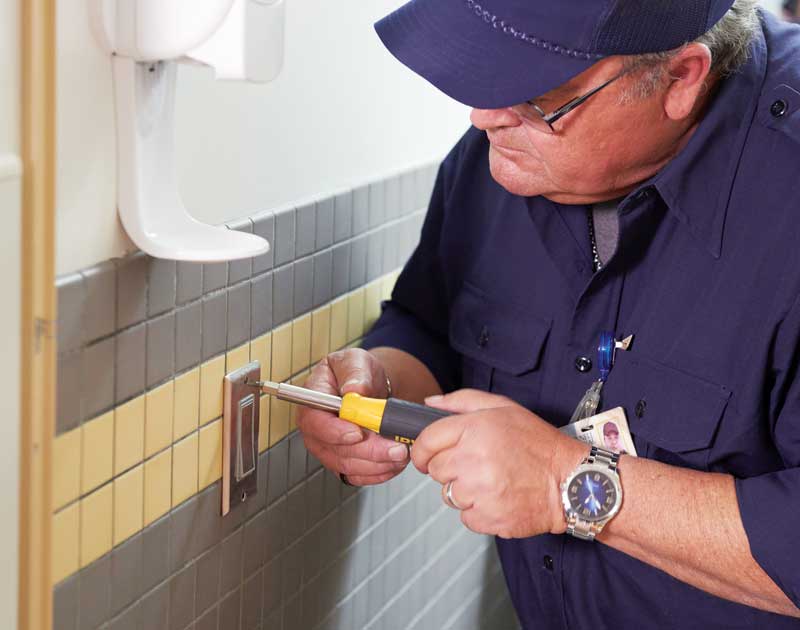 Hospital installations
In most cases, copper components can easily be installed or retrofitted in a matter of minutes—sometimes, all it takes is a screwdriver. Freestanding medical equipment and instruments made of copper require even less work. With more than 500 copper alloys registered by the U.S. Environmental Protection Agency (EPA) and more than two dozen U.S. manufacturers offering products, options are available to satisfy diverse needs and to facilitate sustainable design from the hospital intensive care unit (ICU) to visitor waiting rooms. Copper can be used for everything from door handles, stair handrails, grab bars, sinks, faucet levers, carts, and other healthcare equipment. These durable and long-lasting products can exhibit warm tones of brushed nickel, colder gray of stainless steel, deep yellows of brass and bronze, or traditional red of copper.
Pullman Regional Hospital, a Level IV trauma center in Washington, has also installed copper components throughout its facility. The hospital has copper faucet levers on 40 sinks in the public restrooms and hallway basins, more than 400 cabinet pulls, handles for IV poles used in its in obstetrics facility, ICU, and medical surgery unit, and accessibility buttons for double-doors throughout its 8825-m2 (95,000-sf) facility. Eventually, the administration would like to add countertops, chair armrests, bed rails, and bed handles made of copper.
Copper hardware, fixtures, and components can be cared for and maintained in likely the same way as the components currently found in hospitals. Routine cleaning to remove dirt and grime is still necessary, but this is essentially the only thing required for the surfaces to kill bacteria continuously.
Normal wear, and even the natural oxidation of some copper alloys, do not impair the material's efficacy. It remains effective even after repeated wet and dry abrasion and re-contamination. The antimicrobial property of copper-based alloys like brass and bronze is inherent to the metals and will last the entire lifespan of the product.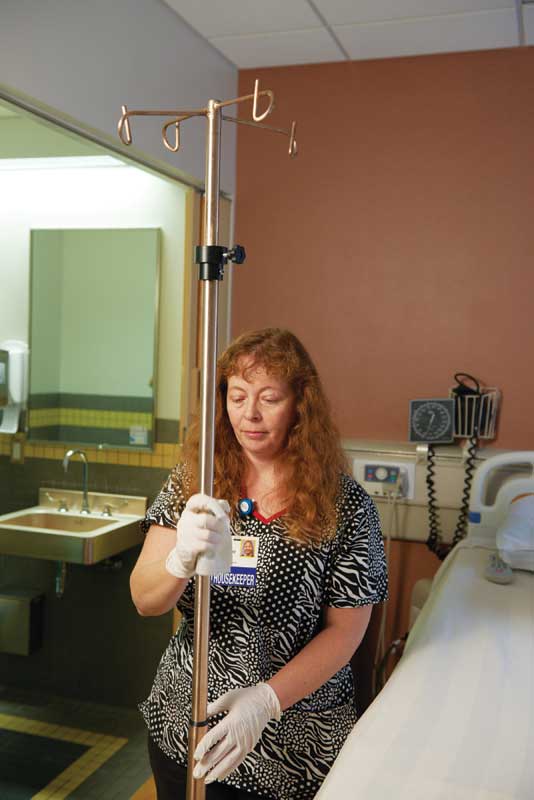 Parkview Hospital Randallia in Fort Wayne, Indiana, is currently planning to install doorplates and handles, cabinet handles, and other frequently touched surfaces made of copper. The hospital will install the copper components strategically within specific areas of the hospital like the ICU. Retrofitting a hospital with antimicrobial copper is a one-time investment that has long-term benefits far outweighing the upfront costs.
At Grinnell, antimicrobial copper hardware and components have been installed throughout the facility, including patient rooms and bathrooms. In addition to grab bars, light switches, door handles, faucet levers, and toilet flushes made of copper, the hospital has purchased over-bed trays and IV poles made from these bacteria-killing metals.
Hospital-acquired infections (HAIs) contribute to significant loss of life and increased treatment costs. When patients develop an HAI, their length of stay is estimated to increase by approximately 19 days, adding up to $45 billion in healthcare costs.
"It is a very serious problem," said Ed Harrich, director of surgical services for Pullman Regional Hospital. "I think every hospital across the nation is doing everything they can to try to deal with it the best that they can. But there's bioburden on everything and people aren't good at handwashing and there's cross-contamination everywhere you go."
Hospitals are not the only buildings where there is antimicrobial copper to be found. Transportation hubs, restaurants, athletic training facilities, and healthcare centers have begun to recognize this metal's benefits. In 2012, the Ronald McDonald House (RMH) in Charleston, South Carolina became the first nonprofit temporary residence facility in the country to undergo a copper retrofit.
Throughout the facility, wood, plastic, and steel touch surfaces were replaced with antimicrobial copper to further protect guests with compromised immune systems from harmful bacteria. Antimicrobial copper was used for the RMH facility's stair railings, sinks, faucets, tables, locksets, cabinet pulls, and chair arms—virtually all high-traffic areas in the building.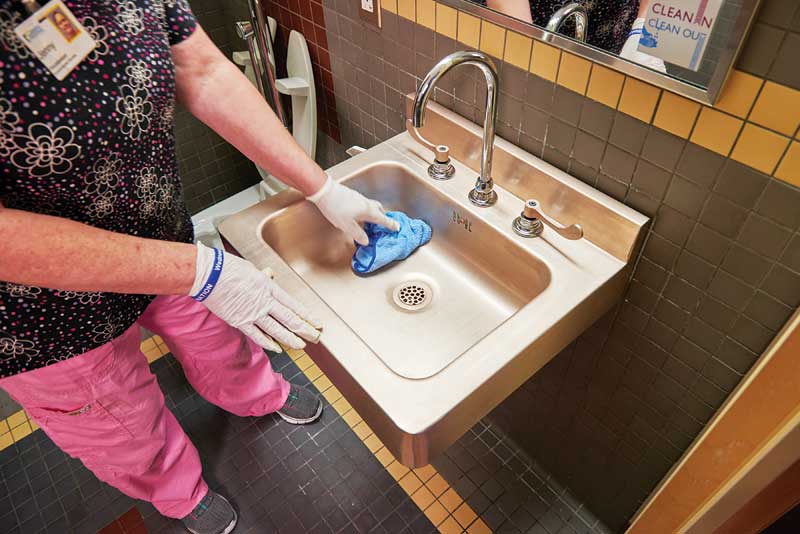 Additional advantages of copper touch surfaces
There is no need for any aftermarket coating, special cleaning protocol, or treatment for copper alloys. For copper to remain effective, it should be left bare and cleaned regularly, just like any other traditional touch surface material. As some uncoated copper alloy surfaces naturally age, they may change color slightly due to natural oxidation, which does not impair the antimicrobial efficacy of the surface. The change in appearance depends on the alloy composition, and tarnish-resistant alloys are also available. Additionally, each alloy ages differently depending on the application, giving architects, designers, and specifiers a wide range of choices.
This antimicrobial effect does not diminish over time. Regardless of how many people touch the side rails on a hospital bed or push on the exit plate of a door over the years, copper exhibits the same antimicrobial properties from installation, as long as it is cleaned regularly to remove dirt and grime. Considering copper's exceptionally long service life, an application should last, once installed, as long as the structure it is housed in—taking into account normal wear and tear. This metal and its alloys are made mostly from recycled material and, at the end of service life, are also 100 percent recyclable.
Copper and copper alloys can be easily fabricated into a wide variety of shapes and forms, from large wall sections to small cellphone covers, making it beneficial for many different applications.
The science
People have been aware of the inherent antimicrobial properties of copper since the dawn of civilization. The ancient Egyptians, Greeks, Romans, and Aztecs used copper compounds to treat diseases, burns, sore throats, and skin rashes, as well as for good hygiene. During the 19th century, scientists discovered the existence of microbes and the role these tiny organisms had in causing infections and diseases.
More recently, copper alloys were registered by EPA in 2008 after rigorous laboratory testing. It is the first solid antimicrobial touch surface material to receive a public health registration. In the United States, this registration permits products manufactured from uncoated copper-based metals with at least 60 percent copper content to be advertised with antimicrobial claims against six disease-causing bacteria:
E. coli 0157:H7;
Pseudomonas aeruginosa;
Staphylococcus aureus;
Enterobacter aerogenes;
VRE; and
MRSA.
The mechanisms by which solid copper damages and destroys bacteria is still being studied, but sufficient work has been done to confirm the broad spectrum efficacy of the metal and its alloys. By interacting with the cell structure, copper initiates a series of cascading events, including rapidly interrupting normal functions and compromising cell membrane integrity. This allows copper ions to enter the microbe structure and totally overwhelm the metabolism. The final stage is the breaking down of genomic material.
Thankfully, there is little danger of running out of copper. Worldwide resources of this important and valuable metal are estimated at more than 3.6 trillion kg (8.1 trillion lb) of which only about 490 billion kg (1.1 trillion lb) have been mined throughout history. Copper's ability to be repeatedly recycled, without any loss in performance, is an important sustainable benefit.
Conclusion
The direct cost of treating a single hospital-acquired infection (HAI) is approximately $43,000, and this does not take into account the patient's pain and suffering. In comparison, the incremental cost to outfit a patient room with copper products is typically less than $5000 based on current estimates from EPA-registered product suppliers. A typical suite of products includes door and cabinet hardware, light switch plates, outlet covers, IV pole, patient tray table, sink, faucet levers, flush lever, grab bars, and soap dispenser touch points. This represents an attractive value proposition, particularly when considering the useful life of antimicrobial copper products.
Now armed with scientific proof, hospitals can take steps to supplement their infection control practices with antimicrobial copper. Whether for a new medical facility going up or an existing hospital wing receiving an upgrade, copper can be incorporated into the building design or retrofitted to meet changing needs and scope. By installing these hardware, fixtures, and components throughout their facility, healthcare providers are helping prevent the spread of potentially harmful bacteria.  (To help educate hospital executives and their staff on the benefits and ease of installing copper components, the Copper Development Association [CDA] recently launched two videos: "Installing Antimicrobial Copper Components and Cleaning" and "Maintaining Antimicrobial Copper Surfaces." For more information, www.antimicrobialcopper.com/us.)
Adam Estelle is a manager for the Copper Development Association's (CDA's) Antimicrobial Copper Program and Rod and Bar Council. He joined the CDA in 2008 as a project engineer to help develop a new market for copper alloys based on their inherent antimicrobial properties. Estelle has helped many material suppliers, manufacturers, and healthcare professionals overcome technical, promotional, and regulatory obstacles associated with the antimicrobial copper market, while co-authoring several papers on the public health benefits of copper alloys. Estelle is also the recipient of an award of appreciation from ASTM for his contribution to their work with copper products. He can be reached at adam.estelle@copperalliance.us.