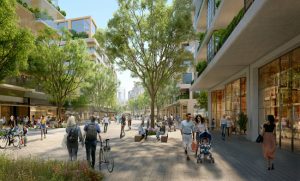 International architecture and interior design practice Antonio Citterio Patricia Viel (ACPV) has been awarded the design of an office building and a hotel as part of MilanoSesto, a major urban regeneration project in Italy.
ACPV's project will be part of 'Unione Zero,' the first private development parcel of the former Falck area in Sesto San Giovanni. Construction will begin in the second half of 2021.
ACPV will oversee the design of the office spaces and a 250-room hotel, based on a model of development that focuses on people and their needs. The intervention is part of the 1.5-million-m2 (16 million-sf) MilanoSesto masterplan by Foster + Partners and will become the gateway to the newly regenerated urban area. The 'Unione Zero' parcel—covering 250,000 m2 (269,0978-sf) above and below ground—enjoys a strategic position, with its close proximity to the new Sesto San Giovanni railway station and the underground line connecting the area with the center of Milan in 15 minutes. The development will rise next to the City of Health and Research—the new health center of the Lombardy Region.
"We are delighted to have been selected to participate in the largest urban regeneration project in Italy," said Patricia Viel, architect and co-founder of ACPV. "ACPV's office building and hotel will become the gateway to the masterplan in its very first phase of development. This project demonstrates the firm's continued commitment to designs focusing on sustainability and social well-being."
The ACPV project, characterized by the use of BIM technology, embeds environmental sustainability and energy efficiency at its core, in terms of building performance and adherence to (Leadership in Energy and Efficiency Design) LEED, WELL, and Cradle to Cradle standards.
The design of the hotel and office buildings favors the use of innovative materials that reinforce circular economy principles and fosters dialogue between public and private spaces.
Along with ACPV, international studios Barreca & La Varra, Park Associati, and Scandurra Studio Architettura were selected to create the seven buildings of "Unione Zero."