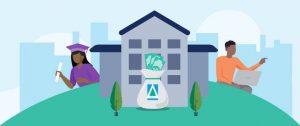 The Architects Foundation is launching its inaugural LFRT Architect Registration Examination (ARE) scholarship this month.
The scholarship will cover the cost of the ARE and provide $500 in study materials, a one-year subscription to AIA's exam prep resource (ArchiPrep), one year of dues to AIA or the National Organization of Minority Architects (NOMA), and one year of NCARB record fees. In order to be eligible, applicants must be an associate AIA or a member of NOMA, hold an NCARB record, and be eligible for the ARE. Applicants must write a brief essay to apply and letters of recommendation are optional.
"We wanted to remove as many barriers as possible for young people seeking this award," said Jonathan Moody, co-chair of the LFRT Justice, Equity, Diversity, and Inclusion (JEDI) committee. "Being the first year of granting these scholarships, we're not sure how many applications to expect, but if you run the numbers, the need exceeds current resources.
According to a joint survey by NCARB and NOMA, Baseline on Belonging,  minority professionals experience more barriers as they pursue licensure. Results indicate Black and Latino candidates disproportionately face financial barriers towards the ARE exam, and most applicants spend more than $500 on study materials.
"Improving access to the exam is one step the profession can take to help open doors to a more diverse pool of aspiring architects. NCARB is excited to partner with the LFRT on this new scholarship," said NCARB president, Alfred Vidaurri.
The deadline to apply for the LFRT scholarship is January 14, 2022.