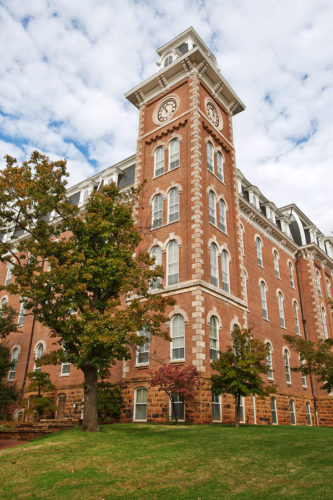 The University of Arkansas (UofA) has begun construction on the Stadium Drive Residence Halls, its newest student residence.
The endeavor is a collaborative effort of UofA Housing Facilities Management, the J. William Fulbright College of Arts and Sciences, and the Fay Jones School of Architecture and Design. When completed, the buildings will be the country's first residence halls to use cross-laminated timber (CLT) and the first multistory advanced timber structures in Arkansas.
"Cross-laminated timber, the most prevalent form of mass timber, is a form of super-plywood—massive panels made of layers of dimensioned lumber adhered to 90 degree angles at each other," says Peter MacKeith, dean of the Fay Jones School. "The entire laminate meets structural, fire, seismic, health, and other required building code specifications and possesses great versatility in design and construction applications."
Upon completion, the two buildings will be five stories tall, with more than 18,580 m2 (200,000 sf) of total space and 368 rooms. Conceived as a Living Learning Community (LLC), a specialized living environment that connects students inside and outside classroom environments, the residence halls will serve multidisciplinary communities focused on architecture, interior design, landscape architecture, English, and the arts. The space will feature extensive landscape design, as well as a recording studio, study spaces, and a yoga studio.
"We are committed to fostering a campus that embraces collaboration and interdisciplinary pursuits to stimulate innovation in teaching and learning," says Jim Coleman, executive vice-chancellor for academic affairs. "With this Living Learning Community we will have several departments working together to provide students with a collaborative experience focused on design and the arts."
The project was planned by a design collective led by Leers Weinzapfel Associates, Modus Studio, Mackey Mitchell Architects, and OLIN.
The Stadium Drive Residence Halls are scheduled to open by fall 2019.
To read more about the project, click here.