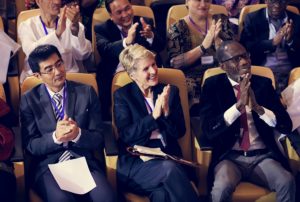 Last week, the American Society of Heating, Refrigerating and Air-conditioning Engineers (ASHRAE) distributed its annual awards during the 2018 Winter Conference in Chicago. The honors recognize ASHRAE members who have made outstanding contributions to furthering energy efficiency in the heating, ventilation, air-conditioning, and refrigeration (HVAC&R) industry.
The Technology Awards celebrate society members who have successfully applied innovative building designs incorporating ASHRAE standards for effective energy management and indoor air quality (IAQ) and also serve to communicate innovative first systems design. The Technology Award recipient who demonstrates the best overall compliance with the judging criteria receives the Award of Engineering Excellence. This year, the honor went to Jonathan R. Rumohr and Jesse Hendershot in the category of existing educational facilities for the Heritage Hall Alumni Centre at Western Michigan University.
The remaining Technology Award recipients are:
Mark C. Hersch and Holly M. Stevens (MODUS) in the category of existing commercial buildings category—Market One LLC, Des Moines, Iowa;
Roland Charneux (Pageau Morel et Associés) in the category of new commercial buildings—Mountain Equipment Co-Op Head Office, Vancouver, British Columbia;
Raymond L. Beaufait (CMTA Consulting Engineers) in the category of new educational facilities—Discovery Elementary School, Arlington, Virginia;
Steven T. Taylor, David Heinzerling, Allan Daly (Taylor Engineering), and Todd Gottshall (Western Allied Mechanical) in the category of new other institutional buildings—San Francisco Museum of Modern Art, California;
Eric Michael Fullerton, Adam M. McElderry, and Andrew Jester (Bernhard TME) in the category of health care facilities existing building commissioning—Pineville Enterprise Energy Management Phase 1, Charlotte, North Carolina; and
Samuel Paradis and Yves St-Georges (SNC) in the category of new public assembly— Amphithéâtre Multifonctionnel de Québec (Centre Vidéotron), Québec City, Québec.
ASHRAE also distributed the E.K. Campbell Award of Merit for outstanding achievement in teaching, the F. Paul Anderson Award for exceptional performed services, and the John F. James International Award, which is awarded to a member who enhances the society's international performance. To view a complete list of winners, click here.
The society recently announced a new online portal designed to create easy access to resources related to ASHRAE Standard 90.1, Energy Standard for Buildings Except Low-rise Residential Buildings. Updated features offers users access to up-to-date resources in one consolidated location.
"ASHRAE Standard 90.1 is used globally as an industry benchmark for setting minimum energy performance standards and energy codes," says Drake Erbe, ASHRAE Standard 90.1 committee chair. "Bringing all 90.1-related resources together in one location will empower building professionals to focus more on delivering energy efficiency requirements, knowing they have access to the most current Standard 90.1 information."
To access the portal, click here.