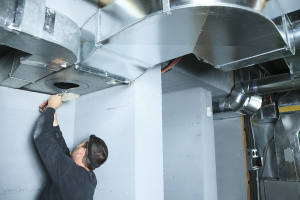 Requirements regarding multi-family residential dwellings, environmental tobacco smoke, and operation and maintenance, are among the changes to the American Society of Heating, Refrigeration, and Air Conditioning Engineers' (ASHRAE's) newly published indoor air quality (IAQ) standard.
ANSI/AHRAE 62.1-2016, Ventilation for Acceptable Indoor Air Quality, sets minimum ventilation rates and other requirements for commercial and institutional buildings.
"The latest version of ASHRAE 62.1 contains changes that affect high-rise residential spaces, the IAQ procedure, lab exhaust, and demand control ventilation," said Hoy Bohanon, the standard's committee chair. "Designers and users of the standards who are involved with those spaces or processes will benefit from using the up-to-date requirements."
Multi-family residential dwelling spaces have been removed from the standard and are now covered under Standard 62.2, Ventilation and Acceptable Indoor Air Quality in Residential Buildings. Spaces outside the dwelling space such as corridors, lobbies, fitness rooms, and retail areas will continue to be covered by the 62.1 standard.
ASHRAE revised its definition of 'environmental tobacco smoke' (ETS) to include emissions from electronic smoking devices and cannabis. It changed the reduction of ventilation allowed to zero through the use of occupancy sensors for spaces of selected occupancy types provided that ventilation is restored whenever occupancy is detected. There were also changes to language related to demand-control ventilation confirming the standard is intended to be used for physical operation in addition to calculations for code review.