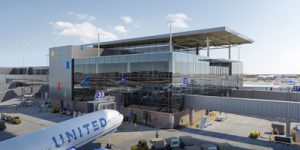 The West Gate Expansion project at the Austin-Bergstrom International Airport (AUS) will increase terminal space beyond its current gates 33 and 34, to accommodate post-pandemic travel demand and modernize the airport.
The expansion, totaling an additional 7,850 gross m2 (84,500 gross sf), will cover over three levels of apron, concourse, and mezzanine space. General contractor Hensel Phelps and design architect Page/ will render their services for the project, which is aiming for a three-star certification from the Austin Energy Green Building (AEGB).
The expansion will add amenities that children, families, and travelers of all ages will enjoy, such as new food and retail spaces, public art through the City of Austin Arts in Public Places Program, more seating areas, the largest restrooms in the terminal, quiet places for relaxation, and private rooms for nursing, and an exciting third-level outdoor public patio with views of the city's skyline. The project will construct three new gates that will eventually offset the closure of existing gates during future construction activities.
Enabling work began this summer and the expansion is estimated to open in 2026. In the meantime, travelers can expect construction walls during demolition between gates 33 and 34, but a longer-term wall will be built by spring 2024. It is also important to note the concession, I Vinni, on the concourse between gates 29 and 30 will be permanently removed in early 2024. The furniture in the waiting areas will be moved to accommodate the expansion progress, but additional seating will be added to the concourse walkway. Although the area is under construction, all current gates on the west side will remain operational.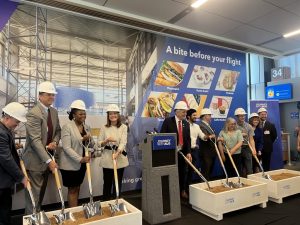 Dozens of Central Texas and Austin leaders gathered recently at the airport to celebrate the groundbreaking. This project is one of the near-term Journey With AUS expansion projects that will improve the Central Texas airport, which continues to serve a record-breaking volume of passenger and airline activities.
"Following the post-pandemic surge in air travel demand, we must modernize and improve our airport," says Robert Goode, interim assistant city manager. "I applaud the teams at the Department of Aviation for their fast-acting responsiveness in bringing this project, from conception to breaking ground in, and look forward to providing our airport guests with more space, more amenities, and an improved experience."