Autodesk invests in modular construction startup Factory_OS
August 9, 2019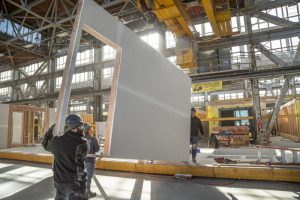 Software corporation Autodesk[2] is partnering with Factory_OS[3], a modular construction startup in San Francisco, California.
With this investment, Autodesk is supporting the build out of Factory_OS' Factory Floor Learning Center, a space for education and research on industrialized construction and changes needed in public policy. This work will be led by the Terner Center for Housing Innovation[4] with the University of California, Berkeley (UC Berkeley).
The investment also establishes a team to scope and plan for a new Rapid Response Factory to meet the demand of quick turnaround housing solutions following natural disasters and emergencies.
"Building on Factory_OS' existing use of our tools, we will work together to identify new software collaborations to streamline the design, fabrication, and supply chain management of offsite construction," said Autodesk.
Endnotes:
[Image]: https://www.constructionspecifier.com/wp-content/uploads/2019/08/Opener-6.jpg
Autodesk: https://www.autodesk.com/?mktvar002=afc_us_BWERBIT&AID=11369590&PID=3044233&cjevent=782ae3c7b92e11e981ee007b0a24060b
Factory_OS: https://factoryos.com/
Terner Center for Housing Innovation: https://ternercenter.berkeley.edu/
Source URL: https://www.constructionspecifier.com/autodesk-invests-in-modular-construction-startup-factory_os/
---