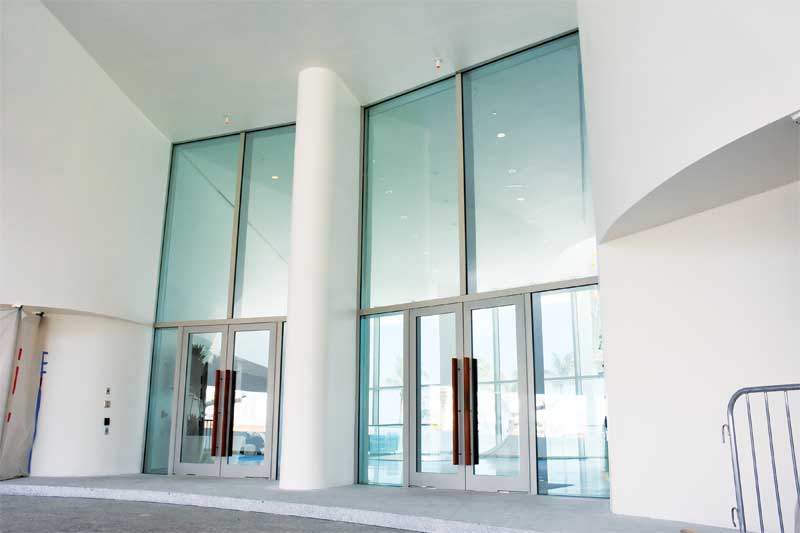 by Steve Sanko
Jade Signature, a luxury condominium in South Florida, is a parallelogram-shaped tower on the beach. Each unit in the 57-story building is designed to offer spectacular views and provide protection from sun, heat and, at times, hurricanes.
Conceived by developers Fortune International Group, the interiors of Jade Signature were designed by French firm PYR, led by Pierre-Yves Rochon. The landscaping is by Miami landscape architect Raymond Jungles. The condominium also has a three-level underground parking garage extending approximately 12 m (40 ft) below ground level in an area sitting only 0.9 m (3 ft) above sea level. The underground parking is a rarity in South Florida.
Every design detail for the Jade Signature mattered, right down to how the doors on the common amenity levels would be installed. The exterior aluminum and glass doors envisioned by Pritzker Prize-winning architects Herzog & de Meuron represent the first integration in the South Florida construction market, of a collection of novel features including:
elimination of the standard door threshold;
elimination of the customary storefront door sub-jambs at the lobby entrances;
seamless "one-piece" face cladding with a high-performance paint system;
intelligent in-ground automatic operators with wind-dampening modules; and
a panic device "guard" for in-swing doors.
Construction for Jade Signature commenced in 2013 and ended in 2017. The designers, general contractor (GC), and project team respected the effort required to gain the necessary, and sometimes elusive, Florida Product Approval while meeting the aggressive project schedule. A full-service subcontractor with experience in glazing, doors, hardware, and access control was retained to develop the initial design intent into a final integrated design via iterative project submittals, while simultaneously conducting hurricane impact testing at a local lab. All tests required for the Florida Building Code (FBC) High Velocity Hurricane Zone (HVHZ) were conducted.  These include: ASTM E283, Standard Test Method for Determining Rate of Air Leakage Through Exterior Windows, Curtain Walls, and Doors Under Specified Pressure Differences Across the Specimen; ASTM E330 and Testing Application Standard (TAS) 202, Standard Test Method for Structural Performance of Exterior Windows, Doors, Skylights and Curtain Walls by Uniform Static Air Pressure Difference; American Architectural Manufacturers Association (AAMA) 1304, Voluntary Specification for Forced Entry Resistance of Side-Hinged Door Systems; and FBC 1626.2, Large Missile Impact Tests (TAS 201, Impact Test Procedures, and TAS 203, Criteria for Testing Products Subject to Cyclic Wind Pressure Loading); and ASTM E1886/E1996, Standard Test Method for Performance of Exterior Windows, Curtain Walls, Doors, and Impact Protective Systems Impacted by Missile(s) and Exposed to Cyclic Pressure Differentials.
The test approvals yielded maximum frame widths of 1181 mm (46-1⁄2 in.) for single doors and 2012 mm (80 in.) for pairs, with a maximum door opening height of 2946 mm (116 in.) at pressures of +/- 454 kg/m2 (93 psf). All testing incorporated the custom-engineered, in-ground automatic door operators from a German manufacturer intended to be employed at the beachside amenity level doors. The medium stile aluminum and glass storefront doors were tested with the specified 33-mm (1 5⁄16-in.) insulated, impact glass with a low-emissivity (low-e) coating used to reflect solar energy and associated heat gain.