4. Polyaspartics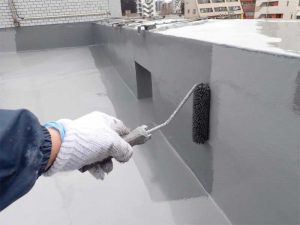 Polyaspartics, which are like polyurethanes, are relatively new to the coatings market compared to other systems with their updated chemistry. Other than for resinous flooring, they are used in spray applied tank linings.
Manufacturers vary in opinion on typical uses for polyaspartics as a flooring material. They can be moisture sensitive when applied directly to a substrate. Most are used as broadcast coats or topcoats/finish coats in hybrid systems. Polyaspartics are great topcoats due to their fast cure times and the fact they are UV stable. They also cure very hard which means they may not accept recoats later without aggressive mechanical preparation; this can vary slightly by manufacturer as well. While the chemistry is the other fast curing product—one to four hours—its pound-to-pound price is higher than MMA and epoxies.
5. Urethane Cement
Urethane cement, also known as cementitious urethane, is exactly as it sounds—a urethane that is modified with cement. This chemistry has become a mainstay in resinous flooring due to its toughness. Two of its main strengths are its ability to withstand thermal shock of up to 115.5 C (240 F) and that it can be moisture resistant up to 9 kg (20 lbs) by calcium chloride test or 99 percent RH by RH in-situ probe testing.
Some negatives to urethane cements are slower cure times—eight to 12 hours between coats—and the install temperature needs to be maintained between 15.5 to 26.6 C (60 to 80 F) give or take. Still, the pros of being extremely durable and one of the toughest chemistries on the market will typically outweigh the cons depending on the project scope.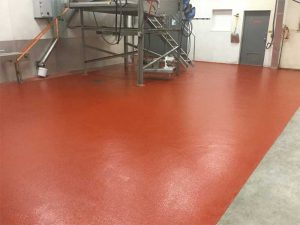 A word about topcoats
Different performance objectives can be achieved by choosing an appropriate topcoat, since this is the flooring system's first line of defense. It is becoming rarer to find an epoxy product as a topcoat as the other chemistries perform better.
In hybrid flooring systems, often found in commercial kitchens, urethane cement is used as the body but different topcoats like MMA, polyaspartics, or urethanes can still give the customer the performance they need while providing different options for the finishes they are trying to achieve in their facility.
After the spec
The specification has now been published, what else can be done to ensure the customer's needs will be met and that one's design is honored as intended? Making sure a qualified applicator is setup to install the specified system is a great first step. An installer should be able to provide references to previously installed projects that are similar in size or scope, as well as be able to provide a letter or certificate that they have been trained and are authorized in the specified manufacturers' system. These are two steps in submittals that can help protect a project's integrity and warranties.