by Jon Chase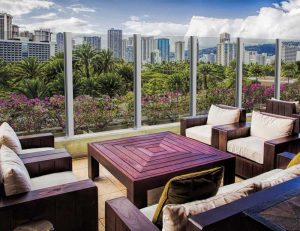 With the rising popularity of the al fresco experience, windscreen systems are increasingly being incorporated in outdoor areas. These post-supported glass railings have been growing in popularity due to their ability to provide unobstructed views and wind protection, and as a visual complement to outdoor amenities such as rooftop decks, pools, and healing gardens. Windscreens are completely customizable, easy to install, and purposefully designed to make commercial exterior spaces more useful and also enjoyable.
Design elements
Windscreen systems can be customized and adapted to the specific needs of virtually any project or setting, taking into account terrain, building level, wind loads, line of sight, safety, and other environmental and performance factors. When it comes to aesthetics, the primary design elements include the following.
Height
Height is customizable based on individual project needs. For rooftop terraces, for instance, the height of the windscreen needs to be adjusted to comply with local building codes for maximum height and fall protection. A standard height for a windscreen system is 2 m (6 ft) above the walking surface, thus providing extensive coverage for furniture and patrons. A handrail is optional, but uncommon.
Airflow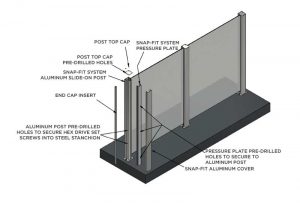 This is the degree to which a windscreen allows air to flow through a space. A system with a minimal footprint will allow for full airflow through the outdoor space, while minimizing wind exposure. While there are no vertical joints, there is often a 76-mm (3-in.) gap below the glass to allow airflow.
Glass selection
Specifiers can also customize glass selection based on the environment and wind load. Special coatings, interlayers, or films can be added to reduce glare, light transmittance, and provide ultraviolet (UV) protection. For example, glass panels can be frosted for privacy or kept clear for transparency. The size, thickness, and type of glass are designed to comply with building codes, industry standards, and safety requirements. The International Building Code (IBC) requires a minimum thickness of 6 mm (1/4 in.) for monolithic tempered glass, laminated tempered glass, or laminated heat-strengthened glass. At higher elevations, the wind load increases and thicker glass is needed to withstand the applied wind load. IBC also requires glass installed in exterior railing infill panels or balusters in wind-borne debris regions to be laminated and tempered to comply with safety glazing impact requirements of ASTM E1996, Standard Specification for Performance of Exterior Windows, Curtain Walls, Doors, and Impact Protective Systems Impacted by Windborne Debris in Hurricanes.
Finish
Windscreens are available in a variety of finishes to not only deliver a unique design, but also provide corrosion-resistance properties. The most common finishes include anodizing, paint, powder coating, or fluropolylmer.
Handrails
Handrails can be added to a windscreen system as an extra safety measure, but are not required. Further, light-emitting diode (LED) lighting can be incorporated into the handrails and/or posts to enhance safety and ambiance.
Windscreen benefits
As one of the most visible elements of any building project, windscreen glass railing systems serve an important aesthetic and structural role by adding support, safety, and style. The following are some of the key benefits of glass railing windscreens.