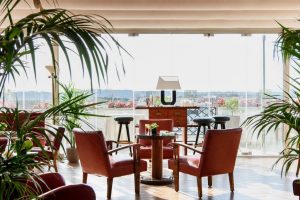 After 150 years of Italian hospitality in Rome, Bettoja Hotels reopens its iconic Hotel Mediterraneo with recent renovations and new additions.
Restorations have brought the historical heritage of the Hotel Mediterraneo to the forefront, highlighting the charm of its architectural feats and the value of its artistic elements. As part of the restoration of the hotel, the rooms feature carefully restored and preserved period furniture.
After a year of closure during the pandemic, four-star Hotel Mediterraneo celebrated the inauguration of the reopening this month. The hotel features a renovated panoramic rooftop terrace with city views of the capital.
Soaring 50 m [164 ft] high, the hotel's 10th floor Roof Garden Restaurant and Terrace includes a new Ligea Lounge Bar. With a vintage atmosphere, the new lounge serves as a prime meeting point for international guests and non-guests to gather in its indoor and outdoor areas.
Several 1940's lamps and restored Art Deco interior design pieces by architects Mario Loreti and Gustavo Pulitzer Finali furnish Ligea Lounge Bar with velvet sofas, mirrors, and vintage pieces with exotic plants creating a lush green nest, alongside a panoramic view of the city.
This Bettoja flagship property has been restored following a careful collaboration with the Italian Ministry of Cultural Heritage and with the participation of master artisans and restorers.
Restorations began in 2018 and recently concluded with the restoration of the Mosaic Room featuring the "Medieval Hunt" by Franco d'Urso, a mosaic based on a sketch by Achille Capizzano.