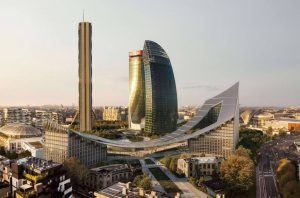 Bjarke Ingels Group (BIG) began construction of CityWave, the new-generation office building marking the completion of CityLife, a district restored to the city of Milan in a completely renovated form.
CityWave is a culmination of CityLife's commitment to urban redevelopment and sustainability,  characterizing the entire development of the district from its inception. The building will be powered exclusively by renewable sources. It is the first office building to go beyond zero impact with a design aimed at exerting a "positive impact" on the environment.
Structure cladding, with photovoltaic panels covering the buildings named East and West, will form the largest photovoltaic park in Milan and one of the largest urban photovoltaic parks in Italy.  The  11,000 m2 (118,403 sq-ft) of panels can provide energy production estimated at 1200 MWh a year, thanks to an installed power of nearly 2 MWh.
The same structure will also make the collection and reuse of rainwater possible, while  providing a vast covered area of public green space to be enjoyed throughout the year.
The building is designed to consume 45 percent less energy than standard office blocks through solutions like the thermal use of groundwater, with a saving of 520 tons of carbon dioxide (CO2) a year, equal to emissions absorbed by 20,000 trees.
The CityWave project has already obtained Leadership in Energy and Environmental Design (LEED) pre-certification with a Platinum level classification.
The CityWave construction works were launched after completion of the detailed design and are expected to be finished by 2025.