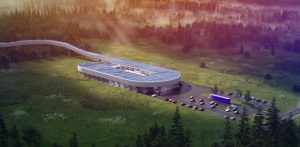 After years of testing and developing hyperloop technology at their full-scale test site, Virgin Hyperloop unveiled that West Virginia will be home to the Hyperloop Certification Center (HCC). The building is designed by Bjarke Ingels Group (BIG).
"Today is one of the most exciting days in Virgin Hyperloop's history," said Sir Richard Branson, founder of the Virgin Group. "The Hyperloop Certification Center is the start of the hyperloop journey for West Virginia, for the United States, and for the world. We are one step closer to making hyperloop travel a reality for people everywhere."
Virgin Hyperloop has successfully tested hyperloop technology at scale, launching the first new mode of mass transportation in over 100 years. The company operated a full-scale hyperloop vehicle using electric propulsion and electromagnetic levitation under near-vacuum conditions. The company is now working with governments, partners, and investors around the world to make hyperloop a reality in years, not decades.
Beyond progressing hyperloop on the regulatory and commercial fronts, HCC seeks to create an entirely new ecosystem, creating new jobs across construction, manufacturing, operations, and high-tech sectors.
This announcement builds off of significant progress in the United States on the regulatory front, Virgin Hyperloop said in a press release. In July, the U.S. Department of Transportation (USDOT) Secretary Elaine Chao and the Non-Traditional and Emerging Transportation Technology (NETT) Council unveiled the guidance document on a clear regulatory framework for hyperloop in the United States. This announcement not only provides a pathway for hyperloop regulation and deployment in the United States, but also establishes hyperloop's eligibility for federal funding for projects, Virgin Hyperloop said.
Virgin Hyperloop aims to achieve safety certification by 2025, with commercial operations beginning in 2030.