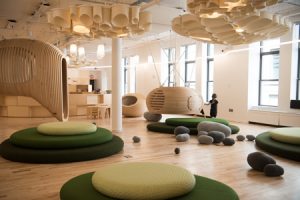 Celebrated architect Bjarke Ingels has completed designing WeGrow's first school in New York City. The 929-m2 (10,000-sf) school in WeWork's Chelsea headquarters is for children aged between three and nine.
Modular classrooms, treehouses, and a vertical farm promote an inclusive and collaborative learning environment.
A field of spaces with a variety of functions allow children to move freely throughout the day. The school's design encourages collaboration by emphasizing transparent and communal spaces. WeGrow has four classrooms, flexible workshop areas, multipurpose studio, and music and art rooms.
Most of the shelves inside the school are raised to the level of the child, thereby allowing natural light to reach deep inside the building. Acoustic clouds made of felt reflect the different patterns in nature—fingerprint, coral, landscape, and moon—and illuminate with bulbs shifting in color and intensity based on the time of day.
By undoing compartmentalization found in traditional schools, WeGrow reimagines education by interweaving learning with playing spaces.