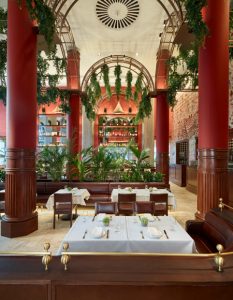 Diners in Boston's Back Bay district are getting Asian- and Latin American-inspired cuisine amid soaring arches in a double-height venue merging historic architectural detail and a tropical vibe in Nahita restaurant. The décor is conceived by Turkish designer Zeynep Fadıllıoğlu in partnership with architecture and interiors firm Dyer Brown.
The venue is located on the first floor of the historic Boston Gas Company building, now a high-end apartment building.
The restaurant merges historic character defined by original stone columns and plaster ceilings with custom print wallpaper and Italian marble. Dyer Brown, as the project's executive architect, drew on the firm's experience in hospitality design, adaptive reuse, and property repositioning to provide input on specialty finishes and key preservation approvals.
Adding metal arches to the former building lobby and lauding its high ceilings, the interiors offer a light, airy feel with ruddy wall finishes and pendant lighting. Tile accents and a mix of furnishings in rich brown leather add to its vibe.
"Nahita's patrons relax in a mix of formal and lounge-style seating seemingly worlds away from our city's hustle and bustle," says Deniz Ferendeci, AIA, director of asset design + support for Dyer Brown. "Collaborating with Zeynep Fadıllıoğlu to realize her singular concept for the owners' vision, Dyer Brown drew on local sources for globally inspired materials to create an unrivaled dining environment."
Off the main dining area, patrons can find a marble-wrapped bar as well as a private dining room lined in rich, dark wood, and marble over ceramic tile floors.