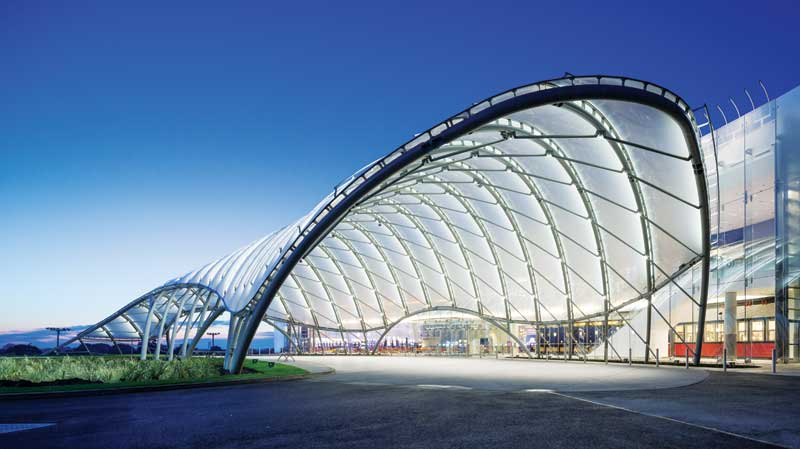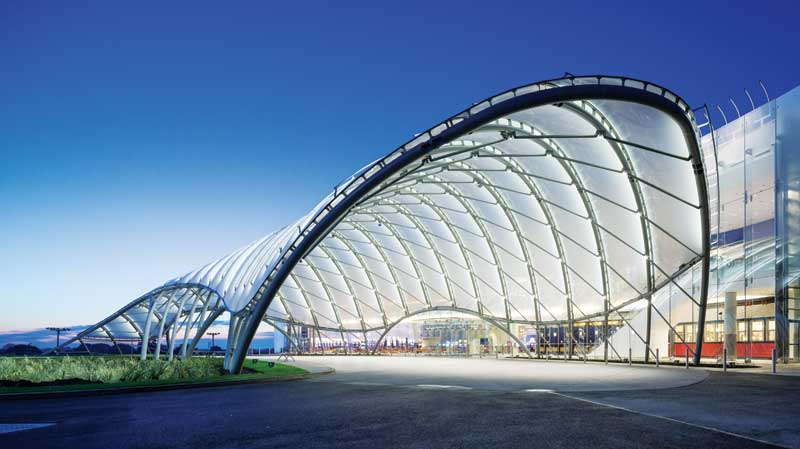 by David Capezzuto
Tensile structures have been used for millennia. When indigenous peoples required shelter that was lightweight and structurally sound, fabrics made from animal hides and easily transportable elements were the most viable solution. At the Roman Colosseum, a retractable Velarium provided shading for a more comfortable spectator experience. Now, ethylene tetrafluoroethylene (ETFE) is offering new opportunities.
A relatively new product within the industry, ETFE is a fluorine-based plastic that remains strong across a wide range of temperatures and is highly resistive to corrosion. It was developed from polytetrafluoro-ethylene (PTFE)—also known as Teflon—a strong, lightweight, fire-retardant fabric membrane that was originally formulated for space exploration apparel, but later used for architectural applications and transparent envelopes.
What is ETFE?
While glass structures provide comparable sunlight transmission and insulation, ETFE is highly durable, more transparent, and significantly lighter—it is approximately one percent the weight of glass. Initially used in agricultural applications, ETFE has since been used on high-profile projects such as the Eden Project botanical attraction (Cornwall, England), the Allianz Arena (home to soccer's FC Bayern Munich), and the Beijing National Aquatics Center—the famous Water Cube featured at the 2008 Summer Games. ETFE film is now considered a premium material for transparent cladding applications ranging from roofing to façade construction to traditional skylight applications to long-span structures.
Few building materials can match ETFE for its design flexibility and performance value. For China's Nantong Park Bon-Garden Greenhouse, the material's thermal performance and light transmission properties support thriving horticulture while still achieving a unique illuminated dome design. At Empire City Casino at Yonkers Raceway in New York, a porte-cochere with a 1020-m2 (11,000-sf) pneumatic ETFE film roofing system showcases the material's ability to meet the unique aesthetic and practical needs—providing not only an eye-catching design element, but also shelter and shade for occupants with high expectations for comfort.
ETFE is also one of the most lightweight and transparent cladding materials available. Due to its low coefficient of friction, neither dust nor dirt sticks to it. As it is ultraviolet (UV) transparent, it neither discolors nor structurally weakens over time. A highly sustainable product, the manufacturing byproducts of ETFE can be remolded into new ETFE products such as tubing components, wires, or castings.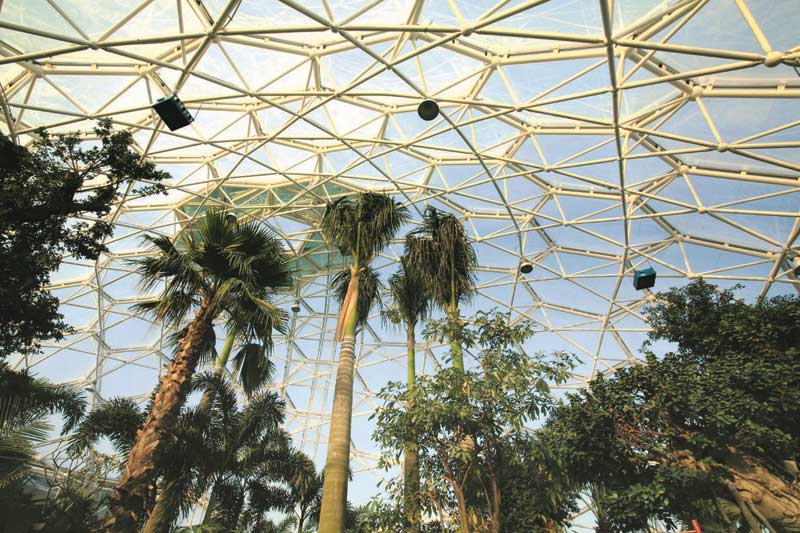 Performance characteristics
ETFE film brings in numerous benefits for occupants and the building owner. The film can be between 90 and 95 percent transparent, allowing for UV transmission and photosynthesis for agricultural applications. The solar performance ranges of ETFE film systems are also flexible, as they can incorporate multiple frit patterns on one or multiple layers.
Standard or custom printed patterns and a range of colors can be applied during the extrusion process to provide design continuity with the rest of the structure and contribute toward solar control properties. ETFE films are also extremely elastic. Up to 600 percent at breaking point, they are still structurally resistant. The tensile strength at the limit of elasticity/plasticity is 21 to 23 N/mm2 (3045 to 3335 lbf/si), but tensile strength to breaking point is 52 N/mm2 (7542 lbf/si). For the structural calculation, a limit of 15 N/mm2 (2175 lbf/si) is considered a conservatively realistic estimate.
ETFE does not degrade under exposure to environmental pollution, UV light, harsh chemicals, or extreme temperatures, making it an exceptionally long-lasting material. ETFE film also has about 70 percent acoustic transmission, making it ideal for projects expecting loud noises. During design development, sound transmission should be considered, as it will indeed transmit sound beyond the ETFE system and to nearby adjacent properties.
From the extruding of the film to transportation to the site, ETFE is sustainable and energy-efficient. Compared to other cladding materials, the design-build process leaves a small carbon footprint. ETFE systems comprise materials with low embodied energy that are demountable and recyclable. The low softening temperature of ETFE film makes the process of recycling the film efficient and economical. ETFE also enhances insulation and daylighting, contributing to the building's global energy efficiency. It is also exceptionally lightweight compared to competing materials, allowing substructure support systems and concrete foundations to be designed more efficiently and cost-effectively, contributing to a reduced carbon footprint.