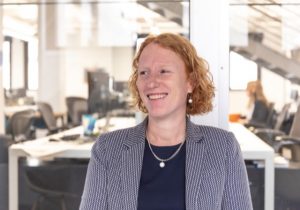 Global architecture firm Buro Happold has appointed Jennifer Price of Seattle, Washington, as managing director and partner of its U.S. offices.
The move brings Price, who is known for her executive experience in business operations and strategy, into a key leadership role for the 12 offices and over 300 employees in the U.S.
"I'm honored and delighted to join Buro Happold, a people-empowering company with a stellar global reputation for technical excellence, strong engineering-led solutions, and highly complex problem solving," says Price. "The firm's nimbleness, and the dedication of its diverse teams aspiring to great design, immediately impressed me."
A diverse executive with a track record for innovation and leading environmental and social governance (ESG) initiatives, Price is among the most successful women leaders in the architecture, engineering, and construction (AEC) industries. She has previously held senior management or director-level positions with global building, engineering, and consulting companies GHD, CH2M, and AECOM. Price has worked with clients globally across industries in the public and private sector, including major municipalities and highly regulated utilities, while cultivating a strong presence on subsidiary and nonprofit boards.
"She is a dynamic, inspiring leader who actively champions inventiveness and vision, pushing boundaries for client solutions in such key areas as climate action, social justice, and environmental sustainability," says senior partner and chair of Buro Happold's global board, Craig Schwitter.