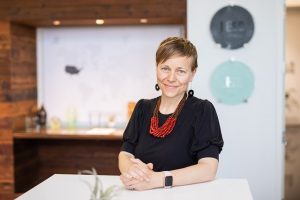 Architect Heidi Creighton of Buro Happold has been elevated to the College of Fellows of the American Institute of Architects (AIA), the group's highest recognition.
According to a media statement, Creighton is being recognized for her "collaborative, human-centric practice championing environmental performance, health, and social equity. Through inclusive building design, progressive master planning, and persuasive advocacy, she has redefined human wellbeing as a broad, urgent societal mandate."
Associate principal in sustainability at Buro Happold, the multi-credentialed architect based in Los Angeles is also a LEED Fellow, WELL Faculty, and Fitwel Ambassador. Creighton has worked on a range of acclaimed building and sustainability projects, including the Santa Monica City Hall East, the Los Angeles Countywide Sustainability Plan called OurCounty, along with building projects totaling more than 1.3 million m2 (14 million sf), completed or in design, to meet standards including Leadership in Energy and Environmental Design (LEED), WELL, net-zero energy (NZE), and Living Building Challenge.
Creighton has been active in green building for more than 15 years, serving for six years on the board of the U.S. Green Building Council (USGBC) – Los Angeles. She currently serves on the AIA California Committee on the Environment (COTE) steering committee. Creighton was named a LEED Fellow in 2018 and broke ground as one of the world's first WELL Accredited Professionals (WELL Aps).
Within Buro Happold, Creighton has led multiple initiatives dealing with companywide sustainability, wellness, and diversity. The Los Angeles office's workplace received LEED-CI Platinum certification and a Los Angeles Green Business certification, in addition to WELL certification.
"Now, more than ever, a focus on human health and wellbeing needs to be the priority in all aspects of the built environment, requiring early and intimate interaction with communities and occupants to put users' need first, above all else," said Creighton.
"In her work, Heidi Creighton has tirelessly advanced social justice as a critical factor in fostering human wellbeing," said Alice Kimm, FAIA, principal with John Friedman Alice Kimm Architects, Los Angeles, and Creighton's sponsor for elevation. "She has developed standards that benefit all of us through ongoing experimentation with new technology, and she has shown us the undeniable connection between equity, creativity, and productivity."